Most of us know & love
Burt's Bee's
products. They are filled with all natural ingredients – which are good for you & good for the environment.
Burt's Bee's
products are all about making products that are for us & work for us as well as being environmentally friendly. A little more background on Burt's Bee's before we move on to this product line I reviewed.
Natural Ingredients – every product states the percentage of natural ingredients so you know what you are putting on your skin each and every time.
Zero Waste to Landfill – all three Burt's Bees North Carolina facilities achieved zero waste to landfill in 2010 by reducing the volume of waste & finding new recycling and composting outlets.
Responsible Sourcing – use Mother Nature's own beautiful ingredients.
Wild for Bee's – fighting to save the life of Bee's.
No Animal Testing
Innovative Packaging – is always working to use less or more efficient packing.
Now for the line of the Intense Hydration I tested out.
I received the following products in my Bzz Kit from
BzzAgent
:
Intense Hydration Cream Cleanser – provides intense hydration and helps reduce the appearance of fine lines & wrinkles. Leaves your skin feeling soft, supple and revitalized. Removes dirt, oil and makeup. Rinses easily without leaving a residue. $9.99
Intense Hydration Night Cream – replenishes moisture while you sleep. Provides intense hydration while helping to the reduce the appearance of fine lines & wrinkles. Absorbs quickly with a non-greasy formula. $17.99
Intense Hydration Treatment Mask – clinically proven to provide immediate, intense hydration Leaves skin looking revitalized. Easy to apply (goes on wet and stays wet, wipe off with tissue or washcloth). $17.99
Several sample sizes of the day & night cream.
I have to say I absolutely loved these products even though I don't have dry skin. I have combination with a very oily over productive t-zone. The products smelled incredible. They worked well. The mask was a bit weird for me just because you wiped it off with a tissue, I have never had a mask like that before. I am used to scrubbing it off with water. The results of the mask were amazing though. Baby smooth skin.
These products work. Even with me without dry skin, I love these products and will use them from time to time since I tend to get dry outside of my t-zone and didn't seem to make my t-zone itself overly oily.
Also included in this line is: Intense Hydration Day Lotion, and Intense Hydration Eye Cream which I didn't receive to test, but wanted to let you know there is two other products in this line to look for!
Happily I ended up receiving two of these kits, one from Bzz Agent & another from
Klout
. Since this line isn't perfect for my skin (even though I loved it), I didn't see a need to have another full set on hand. Which means you lucky readers get the chance to try this full line yourself! Sound good? Just fill out the rafflecopter below & cross your fingers!! USA & Canada only please. I am shipping these myself, so I can't afford to ship overseas.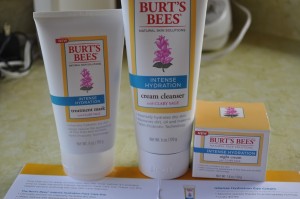 What you could win!
I received these products from BzzAgent & Klout free for myself to review. All thoughts and pictures (minus the top banner one) are my own. BzzAgent, Klout, or Burt's Bee's are no way affiliated with this giveaway.