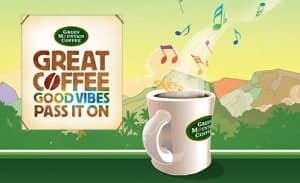 I was lucky enough to get to have three sample bags sent to me of Green Mountain Coffee from being in this BzzAgent campaign. I poured all three bags into a container, so I could more easily smell, look, and measure out the amount wanted for each pot of coffee. The grounds were a rich color and smelled wonderful.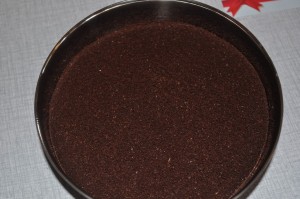 The picture off to the right is of the color of the grounds. No weird blotches to be seen, just rich wonderful coffee grounds. The picture really doesn't do it justice at all. Wish the photo had smell o-vision as well.
Not only did Green Mountain Coffee make an excellent pot/cup of coffee. It is also stamped with the Fair Trade Symbol. What does that mean you ask?
Fair Trade Certified means that it helps farmers get a fair price for their beans, it also improves working conditions, it assists in protecting the environment & supports the community. A lot of good in one little bag or k-cup of coffee I'd say.
Also if you take a peek at the Green Mountain Coffee facebook page – here. Then you can also catch some great music with Grace & Michael, who are going around supporting Fair Trade Farming Communities So go check it out!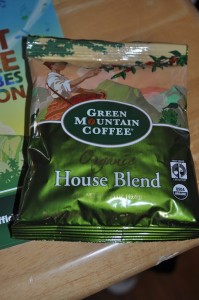 Would you like to try Green Mountain coffee? I have a $1 off coupon that I'd be more then happy to shoot off in the snail mail for you. It's good for one 12-count box of K-cup packs or any 12oz bag of coffee. Just leave me your email in the comments and I'll get in touch with you to get your snail mail address. The coupon is good to the end of the year.
Where do you enjoy your morning cup of coffee?
I received Green Mountain Coffee samples free from BzzAgent, along with coupons. All thoughts & pictures are my own though.