I had won a nice cozy pink pair of Natures Sleep Slippers from a fellow blogger awhile back, so I knew the coziness and cushion feel of these wonderful slippers. Which made me even more excited when I was asked to review a pair of the Natures Sleep Slippers so that I could get my husband a pair and he could give his two cents on the slippers too.
Sadly I ended up getting my husband slippers that were slightly to big, he was right in the middle of being a large or an extra large and I went with the extra large, which was wrong. Happily they fit okay and he can wear them around the house without any huge issues, just the large would have worked even better. I did the same thing when I won mine, mine are slightly big as well. Dang having such small feet. 🙂
The slippers themselves are amazing, they seem to contour right around you feet so they'll match your foot perfectly and cushion it in love and comfort. With us having mostly all wood floors in our house, slippers are much needed in our house. They make your feet toasty warm even in the coldest conditions. I really like these slippers and highly recommend them.
Natures Sleep Slippers are also designed to reduce pressure points & improve your circulation. You can wear these all day and they'll provide pressure relieving comfort the whole time.
The slippers come in open and closed toes, so you can have the choice of slippers with what you prefer and they come in various colors as well, so you'll have a wide selection and not be just stuck with a brown or tan.
Also take a peek at everything else at Natures Sleep website, they have some amazing products! If you would like you can go to Natures Sleep & get 50% off anything you'd like as well, by using the code BEARS50, what a deal!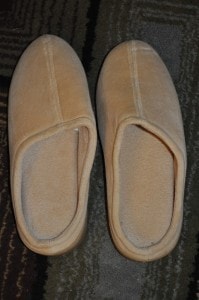 Front of the Slippers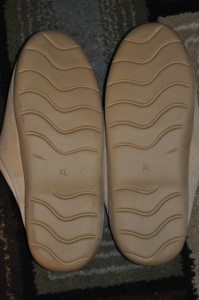 Back of Slippers – Good for multiple surfaces indoors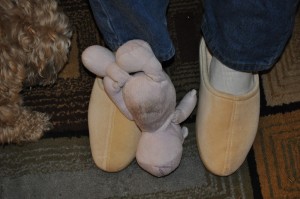 Even Roxy wants to play with Daddy's Slippers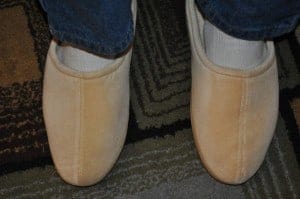 Now how lucky are you all, my readers, that you can enter to win your very own pair of Natures Sleep Slippers of your choosing. USA only please.
Natures Sleep will send you the pair you choose, if you should win after my giveaway ends. I am not responsible for sending out the prize. Natures Sleep gave me the sleepers to review & do a giveaway on, free of charge. However, all thoughts and pictures are my own.