Last year I was super excited to be picked for my very first sample & share from Crowdtap. It was for the Old Navy Activewear line! So when I applied this year for it, I didn't think I'd get in, but I did! I was super excited cause I really wanted another pair of compression pants, but just couldn't let myself pay full price for it and it rarely went on a good sale.
This year we were able to choose any top & any bottom in the active wear line that we wanted. I, like I already said, knew I was getting another pair of compression pants cause I loved those things! They are so super comfy and slim me out some, which is a huge added benefit while being so comfortable.
I usually pick the person the person I am sharing the coupon with on whoever speaks up first on my post on facebook about it. Its fun for me because so far I haven't ever had the same person get it. Wonderful to see what they choose and how their experience was with the coupon since usually they leave out of state that we can't go together. This year was my sister Carmita, she has recently lost a bunch of weight and was excited to get something that she could use. She walks daily and does the treadmill when she can't get out to do her daily walk, she is a huge inspiration, so I couldn't be more excited for her to get this one!
I, personally, didn't have to go into the dressing room this time since I already knew what bottoms I wanted so no need to try those on. And the jackets I was looking at were easy enough to try on the middle of the store. I was really drawn to this purple & pink jacket, but I didn't really need a regular jacket. It was so soft and pretty though, they didn't have it on Old Navy's website, so I couldn't find it to share. So instead I got a similar jacket like I did last year, but this one is full zip up instead of pull over. Love that! Plus it has a zipper cover at top, so the zipper doesn't rub into you, which has been one of my issues with my pull-over. I got the jacket in a dark gray, almost got the purple and I got the full length compression pants with a purple trim top. Love my outfit!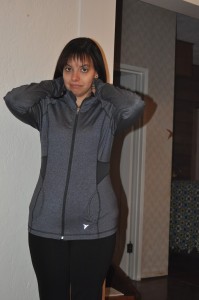 When I went to check out, the lady couldn't actually get my coupon to work. So the manager came over and said yep it's free. For some reason their computers weren't working on it though and they thought because it was so busy from the Holiday season, so they just took the amount off my top & bottom and kept the coupon in their drawer. Great experience even with the little hiccup.
As for my sister, Carmita, she too had a wonderful experience finding her activewear. She had never been into an Old Navy before, but she said she found the activewear quickly even though the store was super busy because it was the day after Christmas. She found what she liked and went to try it out but was a little weirded out by the just the curtain changing rooms (I have yet to run into these), so she had her husband stand gaurd while she tried it on. She loved what she had, so happily she went up to check out. Coupon worked wonderfully for her and out the door she went. She said she'd be going back in at a later time when it wasn't so busy so she could just browse. Another Old Navy lover in the works! 🙂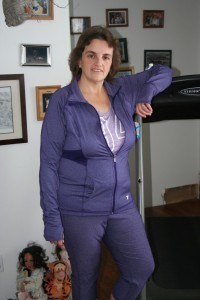 Another wonderful, happy experience with a Crowdtap Sample & Share. I love these things and couldn't be more happy with the products I get from it. So thanks Crowdtap & Old Navy!
I received a free coupon for me & a friend from Crowdtap. All thoughts and pictures are my own though and in no way changed my views on the items I reviewed.