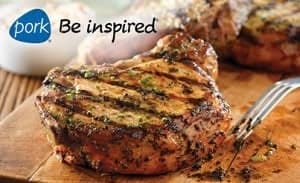 I'm in a BzzAgent campiagn that gave me some great coupons for some pork from Moist and Tender Pork line – I ended up picking up the pork tenderloin from Fred Meyer and then using one of the recipes that came with my Bzzkit. I never know how to cook a pork tenderloin really, so having the extra recipe choices was super helpful and great. I am no cook, my husband is the better cook of the two of us and we both get tired of cooking. Though we both love food. Go figure!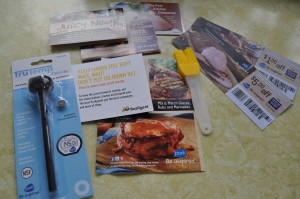 Before I give you the recipe that we tried out, did you also know that pork is now checkmarked with the America Heart's Assocation? Just another great reason to go out and try some Moist and Tender pork at your local Kroger stores.
I picked the recipe called: Balsamic Rosemary Pork Loin with Roasted Potatoes. It sound so good and super simple to make, which simple for me is usually the best route. I didn't have fresh rosemary so I ended up using dried Rosemary leaves, which I think was our downfall on this, to much rosemary. Otherwise it turned out really great and something we will have again with a few slight changes for us. I also added in some carrots with the potatoes. Yum!
Balasmic Rosemary Pork Loin with Roasted Potatoes
Prep: 15 minutes
Cook: 1 1/4 hours
Serves: 8-10
2 1/2 pound boneless top loin pork roast
1 1/2 cups fresh rosemary leaves
12 cloves garlic
3 tablespoons olive oil
2 tablespoons balsamic vinegar
1 teaspoon salt
2 teaspoons black pepper
2 1/2 pounds small red potatoes, cut into 1/2-inch wedges
Preheat oven to 450 F.
In food processor, combine rosemary, garlic, oil, vinegar, salt, and pepper. Pulse to make coarse, wet paste. Spread 3/4 paste on all sides of roast. Place roast, fat side up, in shallow roasting pan. Roast 15 minutes.
In large bowl, combine potatoes and remaining paste.
Reduce oven to 350 F. Arrange potatoes in pan around roast. Continue roasting 40 to 45 minutes, toss potatoes halfway through, or until internal temperature of roast reaches 145 F and potatoes are tender. (If roast is done before potatoes, transfer to a cutting board and return roasting pan with potatoes to oven.)
Remove roast from oven and let rest 10 minutes. Slice roast and arrange on platter with potatoes.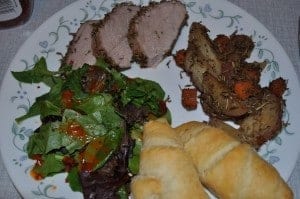 I received the Moist and Tender coupons from BzzAgent to try out some pork, all thoughts and pictures are my own though.
#GotADiscount