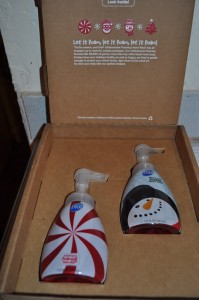 I couldn't have been more giddy to receive the new foaming hand soap by Dial in the Holiday theme. I love, first off, the way I receive things from Purex Insiders. The way they package the things I receive is just awesome & I get giddy over that in itself. Seen on both sides of this paragraph, how cute is the outside? Then we get inside and all the paperwork is in its own little slot at top and special slots for the bottle themselves. And I loved the wording for inside the box that I just had to share it with you all too.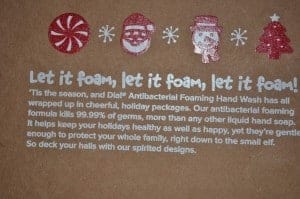 I put the candy cane looking one in the kitchen & the snowman one in the main bathroom downstairs. They are so cute and festive looking. I just like looking at them.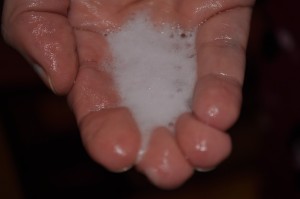 It says to put on the soap before water (which I am used to wetting my hands first, so this threw me off some). It comes out rich and foamy from the Dial bottle & leaves yours hands with a light scent that I just love. I can't find scent names on the bottles, but there is some soft scent there without a doubt.
These Holiday collection bottles are filled with Dial Complete's #1 recommended antibacterial foaming hand wash. This formula kills 99.99% of germs while still being gentle on the skin.
I am super happy with these Holiday Dial bottles & the product inside! They make me happy just looking at them as I walk by and leave my hands smell so fresh and clean and smooth after using the
foaming hand soap.
Go like
Dial on Facebook
or go to their
regular website
to find out more!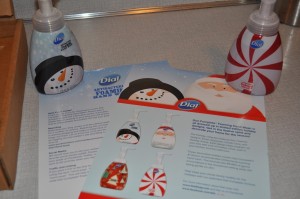 Dial provided me with these two bottles of Holiday Foaming Hand Soap so I could review them. However, all pictures & opinions are all my own.