Emmy Rossum has this amazingly fun album coming out January 29th. I hadn't a clue of who Emmy Rossum was or what kind of music she'd be singing, but was more then happy to sign up to review the album and get in on the inside track of a new album.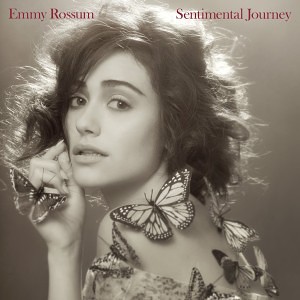 I received the album sometime last week and have listened to it and have to say I really like it. It's not my normal listening music of choice, but its a fun album. The 12 songs on the album are suppose to represent each month in a year. Kind of an interesting little factoid, I thought. Emmy felt that each song needed to either lyrically or emotionally reflect the corresponding month. Some were easy, said Emmy, like Summer Wind for June & Pretty Paper for December. While she picked Nobody Knows You (When You're Down and Out) for September because, to her, the plaintive melody & lyric emotionally reflect the cold weather creeping in and the sense of melancholy we get in the fall months.
You might know Emmy Rossum from the hit Showtime show Shameless with William H. Macy. She is also
has an upcoming film coming out on February 13th called Beautiful Creatures with Emma Thompson & Viola Davis.


My personal favorite song from Emmy's album was The Object of My Affection, which reflects the month of February. I found myself sing along with the song and just feeling giddy while it was on. I also enjoyed Sentimental Journey as well, which reflected January. I guess I am an early in the year girl. I did enjoy the whole album though, but those were probably my two stand outs. To me the whole album had that feel good and light feeling that I just love while listening to music.
You can buy Emmy Rossum's album called Sentimental Journey at either Amazon or iTunes.
"Sentimental Journey" (Les Brown, Ben Homer, Arthur Green)

"The Object Of My Affection" (Pinky Tomlin)

"I'm Looking Over A Four Leaf Clover "(Mort Dixon, Harry M. Woods)

"These Foolish Things (Remind Me Of You)" (Eric Maschwitz, Jack Strachey)

"(I'll Be With You) In Apple Blossom Time" (Albert Von Tilzer, Neville Fleeson)

"Summer Wind" (Heinz Meier, Johnny Mercer)

"Many Tears Ago" (Winfield Scott)

"All I Do Is Dream Of You" (Nacio Herb Brown, Arthur Freed)

"Nobody Knows You When You're Down And Out" (Jimmy Cox)

"Autumn Leaves" (Joseph Kosma, Jacques Prévert)

"Things" (Bobby Darin)

"Pretty Paper" (Willie Nelson)
I participated in this campaign for One2One Network. I received a free copy of the CD to facilitate my review. By posting, I am eligible for incentives. All opinions stated are my own.