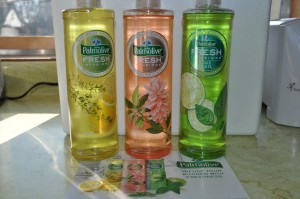 I am pretty snobby when it comes to my cleaning products. I am usually up to trying new ones, but they usually don't live up to the ones I have been using and love, so I switch back to the old and stay in my happy place. Happy at least that I am willing to try the new product and see what I think. It would be awful if I just snubbed my nose at all new cleaning products and just stayed with my happy products.
I have to admit when I was accepted to test the new Palmolive Fresh Infusions from Influenster, I was leery. I figured it would smell great, but not clean well. I am happy to say that I was totally wrong. It not only has some amazing scents, but it cleans just as powerfully as I like and demand.
I picked out the Ginger White Tea to try myself & gave the Lemon Thyme to my dear friend Debbie. I stored the Lime Basil to use later for myself.
While washing dishes with the Ginger White Tea, you go into a happy place because the scent is so calming. Its a joy to wash dishes right now while using the Ginger White Tea and am just not saying that. Not only are you in your happy calm Zen place while washing the dishes, the dishes also come out squeaky clean! You can't beat the cleaning power & the scent together to make this amazing dish soap.
Debbie had the following to say about the Lemon Thyme thus far:
"I received the Palmolive fresh infusions lemon thyme scent to try out in my home. I have to say that the only thing i have used it on so far is to clean grease off my hands, and it worked very well and left my hands smelling delish. :o)"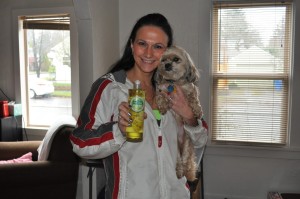 You can find the Palmolive Fresh Infusions at your local Wal-Mart. What scent are you itching to try? It's only $2.99 a bottle as well, so you won't be breaking the bank to give it a try. I can bet you too are going to love this dish soap!
Want to read what other Influensters are thinking about the Palmolive Fresh Infusions? Then check it out – here.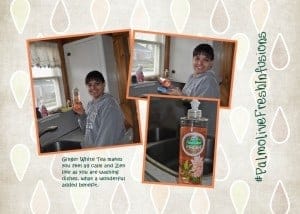 I received this product free from Influenster, so I could voice my opinion on it. I was in no way influenced by getting this product free from Influenster. I only recommend things I enjoy and like.