I have to admit, I have used the same deodorant for as long as I can remember. I love the way it smells & the way it makes my skin feel, usually.
I was still excited and curious to receive the Dry Idea AdvancedDry to review from PurexInsider. You know me, I am always willing to try out new things, you never know you might switch me from my tried and true product.
Dry Idea ended up working out great for me. The one I received was the Dry Idea roll-on deodorant, which again isn't what I am used to using. Happily, it worked wonderful for me. The first time I went to use it I had to really tip it upside down and roll the ball around a lot to get some out the first time, but after that first time it was super easy to apply the Dry Idea. It goes on clear, you just see a light shine after you apply it, but dries just as quickly. Dry Idea AdvancedDry Fresh is also formulated with Vitamin E, so it leaves you silky smooth. The enduring odor protection that lasts up to 72 with Pulse Activated Wetness Protection. I never once felt wet or stinky while trying out this product.
I am overall very happy with this product and actually am seriously considering switching to this once I use up all my older ones. It left me feel protected and fresh.
As always, I have a special link sweepstakes to go along with this Purex product. You can win $500 or a $50 dollar prize – http://insiders.purex.com/dryidea-neversweat/?id=44354
Find out more about Dry Idea on their facebook page – here.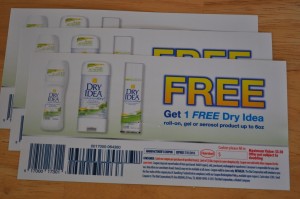 You too can try out the new Dry Idea. I have 4 coupons for a free product of Dry Idea in roll-on, gel, or aerosol up to 6oz's. You can win one coupon via the rafflecopter below. USA only and each winner will have 48 hours to get back to me after I email them or I will be forced to choose a new winner.
Dry Idea brand provided me Dry Idea AdvancedDry Fresh free to review and provide my opinion on. However all thoughts and photos are my own and I was in no way swayed.