I have been in talks about this giveaway since probably August. I slowly started gathering things in November and am not officially ready to host this fun giveaway. The reason for this giveaway? Not a single one. I just love doing giveaways and I love beauty products. It's fun for me to give away these things, and it was fun for me to gather them all for you.
Now I bet you are wondering, so what all is in it? You all helped make the anticipation of this giveaway even more fun with this post, where I asked you all to take some stabs on what could be in it. Thank you!! I loved reading and responding to your guesses.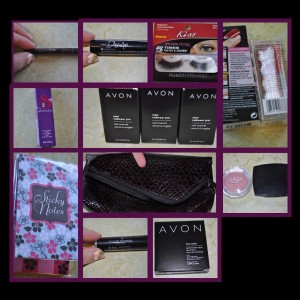 Above you see pictures of each item in the bag, but to make it more of a surprise for the winner, I will not name the colors of the products. Following the collage from top left to right, I'll list the products.
An Avon Glow Glimmerstick
An Avon Mascara
Kiss Lashes
A set of Sally Hansen nail stickers & A set of Kiss Nail Dress Press On Nails
A roll of Secrets to Keep by Avon
Three nail polishes of Avon
A fun sticky note pack
The bag the stuff comes in
Two Blushes
An Avon lipgloss
An Avon eyeshadow set
Sound fun? Want to win? Just enter the rafflecopter below for your chance to win. There will be only one winner for the full bag, USA only please, & the winner will have 48 hours to get back to me after I emailed them or I will be forced to chose a new winner.