I received free coupon for active wear (top & bottom) from Crowdtap & Old Navy to give my opinion and thoughts on. However, all thoughts & pictures are all my own and I have in no way have been swayed by receiving the products for free.

I was giddy when I saw that I had been picked for my third Active Wear Sample & Share from Old Navy from Crowdtap. I love the Old Navy's line of active wear. They are built so well & are so comfortable, so not only do you want to wear them while working out, but you want to wear them just lounging around the house.
I wasn't sure what I was going to get this time around with my free active wear. Times before with this sample & share I kind of had an idea of what I was wanting. This time I went in clueless. Thankfully it was pretty easy to pick out what I thought might work best. I have to admit, the selection this time wasn't as wide as I am used to it being. My husband happily went with me and helped me pick out things. I tried on a pair of capri's with a side color splash, a pair of shorts, a go dry t-shirt, & a tank top. While I loved all the things I tried on, which is rare, I decided to go with the tank top & capri's. I was actually kind of giddy that the shorts I tried on, pictured below in the collage, actually weren't to short like I had feared. I might go back in the future and get those too.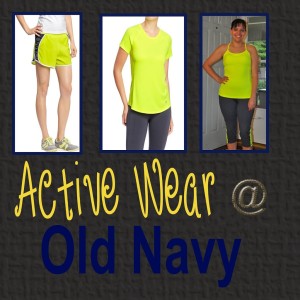 This time I shared my other half of my sample & share with my friend Rose. She lives on the East Coast and actually is in Crowdtap as well and had applied for this sample & share but didn't get in this time. Rose was super pleased with the wide selection of color and options at her Old Navy, but the staff wasn't very helpful she said, so she was a tad disappointed in that factor, but was still happy with her selection of active wear and was more then happy she got them for free. She ended up with the fold over yoga pants & a shirt (she even bought a couple extra of those).
Very happy girls with the Old Navy Active Wear Sample & Share. Thank you Crowdtap & Old Navy!!