I decided a fun way to celebrate Tuesdays on my blog would be with a Tasty Tuesday feature. Each Sunday or Monday I'll post on my blog facebook page – here– asking for recipes from you all (weather it is drinks, desserts or regular old fashion meals). It can be your personal recipe or something you found somewhere else, but you must state where you found it. Tuesday mornings I'll pick the winner using random.org and that winner will be posted on my Tasty Tuesday post. At the end of the month one of my Tasty Tuesday winners will win a small something from me, again I'll use random.org to choose the winner of the month.
Ready for the first one of the segment?
This weeks winner is my dear sister Carmita with a recipe from GroupRecipes and posted by paperdollpeople.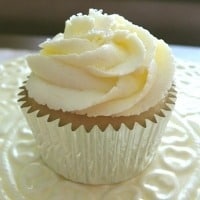 Fluffy Lemon Buttercream Frosting
3 1/2 cups confectioners sugar
1/2 cup of butter(1 stick) softened
1/4 cup of milk
1 t vanilla
1 T lemon zest (the rind of a lemon)
2 T lemon juice
mix the butter, lemon zest and vanilla together, making sure all the lumps are gone.
add the milk, and quickly cream it into the butter mixture.
by the 1/2 cup, mix in the sugar.
once the sugar is all in the bowl, cream on "high" for two minutes. (I use this time to clean up)
mix in lemon juice.
spread heartily on cupcakes, and enjoy!