I received the hair chalk free from Tomoson to give my full honest thoughts on it. I was in no way swayed of my opinion by receiving the product for free. All thoughts & photos are my own.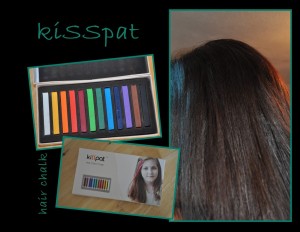 I've always been curious about hair chalk. I thought it would be a fun way to get some pop of color in my hair while being easy and being able to wash it out with my next hair wash. Which is why I applied to be able to review the hair chalk from Kisspat. I was actually denied at first because I didn't have enough facebook followers, but I ended up getting picked anyway, which was in itself a pretty awesome feeling.
It took me a bit to get the "right" time to try out the hair chalk. When I finally did I was excited to choose which color might go with what I was wearing. Yes, that is how I picked out the color this time.
I first tried to dampen my hair a bit and then rub the chalk down the side of my hair. That didn't seem to be working well, so then I moved to the bathroom & wetted the chalk and went to rubbing. I loved the pop of color that was transforming my hair, but I wasn't a fan of the mess I was making.
My hands had blue dye all on them, and I had bits of hair falling onto the sink from my rubbing. I didn't seem to be getting the full color that I wanted either and finally just gave up with the patch of color I had going. I went into the bedroom and did a few swipes with my flat iron and presto I had some light color touches. Fun!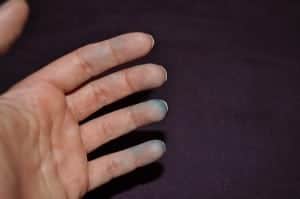 I was going to try a different color and haven't had a chance to do that just yet, I'll try to do another blog post later when I do that.
While being fun and exciting, I wasn't a big fan. I wish it had an applicator to apply to my hair that would get rid of some of the mess. I think if I had an applicator I'd be more of a fan cause then I could feel I could direct better where I wanted it without the mess.
Buy some, here, it's an affordable thing to at least try out and see what you might think.

I received one or more of the products mentioned above for free using Tomoson.com. Regardless, I only recommend products or services I use personally and believe will be good for my readers.