I was given these products free to get the word out about the Pink Panel. Receiving these products in no way swayed my thoughts. All thoughts & pictures are my own.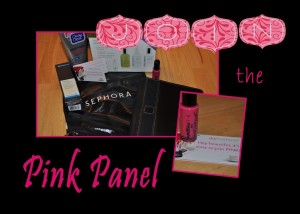 Have you heard of the
Pink Panel
? I hadn't heard of it until I ran across it on Brand Backer to apply to get the word out about it. Even once I had applied to get the word out about it, I didn't know a whole lot about it until I received my little kit. Inside it led me to their facebook page where you sign up to be a beauty tester!
The Pink Panel is a community of woman that your obsessed with all things beauty, weather its skin care, makeup, and whatever else will make you feel beautiful. You'll be able to share tips and tricks with other like minded people. Check it out their facebook page –
here
.
Are you a beauty lover? Can't wait to get your hands on the newest and latest beauty trends? Then the Pink Panel is for you! Not only do you get the chance to share your thoughts on the products (with product tests, surveys and other various contests), but you get the chance at some Amazon cash (and who doesn't love that).
Also if you join this month, you'll also be entered to win one of three $250 Sephora card, holy cow, wouldn't that be just amazing? Just mention Angie's Angle when filling out the form –
here
.
If you are a girly girl like me and love trying new things, then you MUST go join. What do you have to lose? Maybe getting a few free products. I am excited to see what will come next, so again join me on the adventure to learn more about the
Pink Panel
. It seems like so much fun!! Hurry, so you don't miss anymore fun.
This was powered by BrandBacker, however all thoughts are my own.