I participated in this campaign for One2One Network. I received a free copy of the CD to facilitate my review. By posting, I am eligible for incentives. All opinions stated are my own.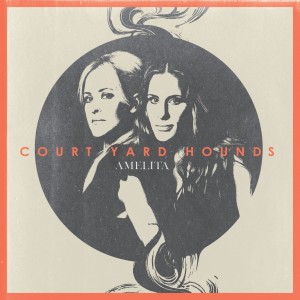 If you listened to the Dixie Chicks, then these two will be familiar to you. The two sisters decided to make their own group – Court Yard Hounds. "We're a band, not a side project. We like our sound, and we're going to continue to do this, and share something new this time around." Emily Robison couldn't be more clear about the game plan for the Court Yard Hounds, the group she and sister Martie Maguire head up, as they get ready to release their second album, Amelita.

I hadn't heard that the two sisters had formed their own group until I got this invite to review the album from One2One Network. Which I thought a little odd since this is their second album and I adored the Dixie Chicks.

I had requested an actual album because I find trying to actually review an album on just a digital download is hard. I like the album right in front of me so I know what song I am listening to and can look back at it as I am writing up my review. The digital download wouldn't play the whole thing through, and I had to click on each link to listen each song and the links didn't say the name of the song, just the album name. Which kind of annoyed me and led me to not want to listen.

The Amelita album has the following songs on it:
Sunshine

Amelita

The World Smiles

Aimless Upward

Guy Like You

Rock All Night

Phoebe

Divided

Gets You Down

Watch Your Step

The Road You Take
It's a great album, and the songs are moving while being also encouraging. While it does have a slightly different, more grown up feel, of the Dixie Chicks, it does have some of that sound that I loved from them. Probably my favorite song from the album was the title name song, Amelita. It's catchy and just overall great.
Want to follow the band, Amelita on social media?
Check out and buy the album Amelita on Amazon.