I received these beauty products free from Influenster & Mary Kay in exchange for my full and honest review on the products. I only give my full and honest opinion on products, no matter how I might receive them. And therefore only recommend products I'd use myself.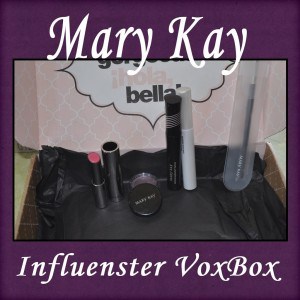 It had been quite sometime since I received an actual VoxBox from Influenster, so I was super excited when I was actually approved to get the Mary Kay Glamour Look VoxBox. I didn't know what kind of goodies I'd be getting so I was anxiously awaiting my box to arrive.
Inside my box was almost a full makeup look. Included were the Mary Kay Lash Love Lengthening, Mary Kay Cream Eye Color in Violet Storm, Mary Kay Cream Eye Color/Concealer Brush, Mary Kay True Dimensions Lip Stick in Pink Cherie, & Mary Kay Lash Primer. I hadn't used Mary Kay products in quite sometime, was excited to see what I'd think. I was completely in love with the cream eyeshadow when I saw what color I received.
The Mary Kay Cream Eyeshadow with the Cream Brush were so fun to play with. It went on smoothly and stayed put once I put it there, which all eyeshadow just doesn't do even with using a primer before hand. I was thrilled with that. I was a little fearful that I might get a slight allergic reaction to it since it was in cream form, because some of the creams for whatever reason leave my eyelids red after I take it off. This happily was not the case. I used it mainly as the eye lid base and was super pleased with the layering I could do to play it up. With 9 color choices and at $14, you can get your choices of colors and being able to pick those that will bring out your eyes. You can pick up the brush, which is for both cream eyeshadow & concealer for just $10.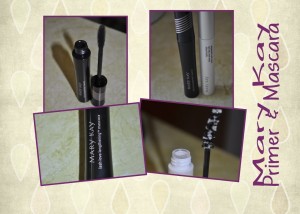 The Mary Kay Lash Love Lengthening mascara in black was super fabulous, it went on without clumps & helped separate my lashes and pop them out. I have no complaints with this one. You can pick it up for just $15, in the black I received or brown. The Mary Kay Lash Primer is a great idea, and I have used primers in the past for my eyelashes. I have to admit though I don't notice any difference on how my mascara wears when putting a primer on my lashes first, so to me this isn't worth the money. If you'd like to try it though, it's also $15.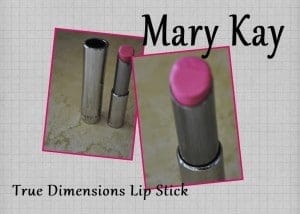 I am not big on lipstick. I wear it very rarely. I'd much rather get a slightly tinted lip gloss then actual lip stick. I was happily surprised though that the Mary Kay True Dimension Lip Stick gave a good pop of color while not drying out your lips. It was nice and smooth and just gave a nice color on your lips while leaving them shiny too. This one runs $18 and is available in 10 different shades. The one pictured to the right, if you'll recall, is called Pink Cherie. Was a nice soft pink, not to bold.
I had fun playing with these makeup products. Below you'll find the picture of me wearing the above products. Its taken with my tablet, so the quality isn't as good as it could be, but I think its a nice soft look that I'd totally do again.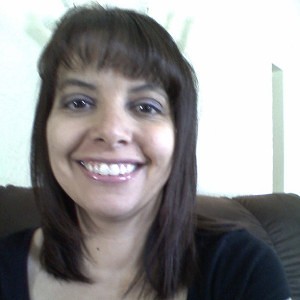 "I received these products complimentary from Influenster for testing purposes."