I received these samples of coconut oil from Kelapo free to review and give my full and honest opinion on. All thoughts and pictures are my own.
Hearing all these wonderful things about coconut oil after the last few months, I was super excited to get some samples in the mail from Kelapo, to try out myself. Though getting them I realize, I have NO idea on how you'd actually use coconut oil. With that little knowledge to myself, it took me a bit longer to get this post up then I would have liked.
The other day I asked my facebook friends how they used coconut oil. I saw on Kelapo – We are Coconuts – blog page there were a wide variety of ways to use the oil, not just cooking, but other household uses. I got a bit overwhelmed, which is why I asked my friends for their thoughts.
I was grateful for several answers to on how they use coconut oil. Below you'll find the answers they gave me:
anytime it was called for regular oil, just replacing it one to one
on your skin before bed
sauteing, especially when it came to cooking up Kale
a sexual lubrication
frying up eggs
use it in making bread instead of the regular oil
natural tanning lotion
psoriasis patches
I was in awe of all the different ways you could use coconut oil. I just never imaged a simple oil would do so many wonders.
Quoted from Kelapo "The lauric acid is what makes extra virgin coconut oil unique. This medium chain fatty acid has antimicrobial properties and helps the body's immune, digestive and even cognitive systems. Lauric acid is also what makes it perfect for the topical treatments."
A month or so back I saw on Pinterest, my lovely Pinterest, that you could make you very own Magic Shell by just using coconut oil & chocolate chips. I love Magic Shell, its one of my guilty pleasures. I decided that is what I would test this coconut oil with for my review.
Below you'll find the recipe that I took off this fellow bloggers site, while finding it on Pinterest,
Gimme Some Oven
.
Homemade Magic Shell
Make your own DIY homemade magic shell with just 2 ingredients!
Ingredients
1 cup chocolate chips (dark, semisweet, milk chocolate, white, etc.)
2 Tbsp. coconut oil
Method
Stir together chocolate chips and coconut oil in a large microwave-safe bowl. Place in microwave and
cook on high for 30 seconds. Remove and stir. Continue microwaving and stirring in 15 second intervals
until all of the chocolate is melted. Remove and let sit until the chocolate reaches room temperature.
Serve with ice cream, or cover and store at room temperature (not in a refrigerator) for up to 1 month.
Oh my gosh!! It came out perfect, and I love that it what was somewhat healthier for me. Total score on this one and can not wait to try my hand at more fun ideas to use with coconut oil.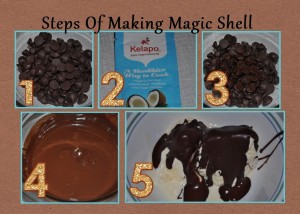 Why not try some
Kelapo
coconut oil yourself, I can bet you'll be pleased like I was. Have you used coconut oil already? Have any tips to add in?