The Purex brand provided me with a sample of Purex UltraPacks plus Oxi in exchange for a product review. However, all thoughts and photos are all my own.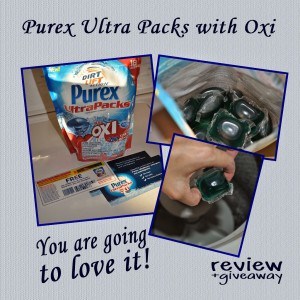 It has been a while since I have gotten a Purex product to review. I was kind of giddy, don't judge me, when I was picked to review the Purex Ultra Packs plus Oxi. I have been curious about the single packs; you just throw it in the wash and that is that, no measuring. This also already has the stain fighter booster in it as well, so no worry about also remembering to put in extra stain fighters.
Even though it already had stain fighters in the little pack, I did still spray the stains with my regular stain spray. I have to say though I did notice that the stains themselves seem to come out much better than normal, which made me a happy girl.
New Purex UltraPacks plus Oxi combines the convenience of easy-to-use Purex UltraPacks with the stain-fighting power of Oxi. The Purex UltraPacks plus Oxi formula is so powerful; it works to fight over 101 of your toughest stains! It also has 2x the cleaning power with every pouch, leaving your clothes so bright, white, and clean!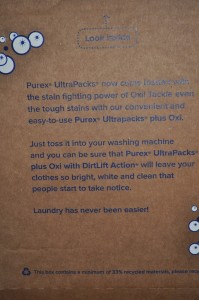 No measuring, no more mess, just toss it in your wash and go! It couldn't be any easier than that. Safe for all washers including HE laundry! Remember to use caution when handing single load laundry detergents. Laundry detergent packs may be harmful if swallowed and can be an eye irritant. Keep out of reach of children.
I am loving these UltraPacks! They seem to work wonderful, leaving me with some amazing clean clothes and fewer stains then I am used to on average.
Want to try out the Purex UltraPacks plus Oxi for yourself? Well, I have a treat for you, enter below in the Rafflecopter for the chance to win 1 of 3 coupons for a free pack of the new Purex UltraPacks plus Oxi detergent. USA only. Winner will have 48 hours to get back to me after I email them as a winner or I will be forced to pick a new winner.