I received these products free to review from Tomoson & Solyvia. However, all thoughts and photos are my own, and I only recommend things that I actually like regardless on how I received it.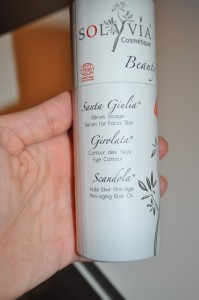 I have to say that I had some mishaps actually get this product line to me after being accepted to review it. First they told me that my mailing address wasn't valid, uhm, hello I know my address and I get mail here daily, its right. They say okay, we'll ship it to you, I wait, and I wait and nothing. I think that is odd. I message them & message them and hear nothing for quite awhile, then I hear backing saying it showed it was delivered. Delievered to who or what I don't know, because I didn't receive it. By this time I had contacted Tomoson and got my date extended. Finally they say they'll ship out a new product for me, I get that quickly and thus here I am with my review, after extending my post by date yet again so I'd have time to actually review the product.
We are happily now here with the Solyvia Cosmetique Beauty Box filled with three different product tubes: a face serum, an eye contour, & an elixir oil. All three products are fully organic & in roller ball applicators, which makes applying easy.
A bit about Solyvia Cosmetique from their website:
"
Inspired by the traditions of the Mediterranean island of Corsica,
Solyvia Cosmétique
draws on native plants used for centuries to treat many common skin and health ailments. Using a innovative extraction method,
Solyvia
Cosmétique
products are derived from local ingredients of natural origin, biological farming and
ECOCERT
certified to produce
HMC3®
– a patented powerful anti-aging, anti-oxidant and cell regenerating formula.

The HMC3® Complex is a combination of five rare plants from Corsica with exceptional benefits to the skin, including:

• Immortelle (Helichrysum Italicum) known for healing, anti-aging, and regenerating properties. Improves microcirculation that increases the production of collagen.
• Myrtle (Myrtus Communis) is used as a stimulant, astringent, a natural tonic for dull and tired skin, resulting in skin stimulation and natural glow.
• Wild Carrot (Daucus Carota) is a powerful skin cell regenerator that promotes renewal and growth of skin cells, as well as inflammatory properties that soothes and calms redness.
• Landanifere Cistus (Cistus Ladaniferus) contains natural anti-wrinkle properties due to its astringent effect that tightens and tones. Used to treat those with skin irritations including rosacea and acne.
• Sea Fennel (Crithmum Maritimum) has antioxidant properties, firming and skin cell regenerating benefits. Paired with Immortelle, it effectively combats the signs of aging. "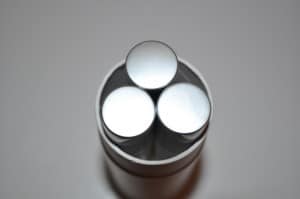 I wasn't completely sure what order I was suppose to apply the products so I did it my own way.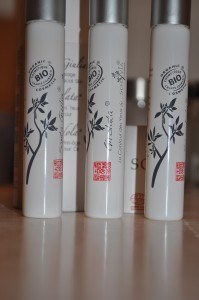 Applying first the eye contour which helps with wrinkles, dark under eye circles, reduces the appearance of puffiness, and repairs the loss of firmness. It left a cooling feeling under my eyes, but weirdly at first applying seemed to make my dark circles darker instead of helping get rid of them as stated. After it dried though and say 10 to 15 minutes later it did seem to lessen the issue of dark circles. It also had a soft scent that wasn't overpowering in the least.
Next I went with the face serum, which can be applied am/pm on clean face before applying your regular moisturizer. It is has dual acting power of anti-aging & firming. On this product I didn't much care for the roller ball applicator to apply it. I wasn't sure where I was getting the product exactly and/or how much I was applying. It had the nice scent though as well, same as the eye contour.
Last I went with the elixir oil, which can be applied am/pm as well on clean face avoiding the eye area as you apply it. This product fights the sign of aging while helping reduce redness. I didn't mind the roller ball applicator on this one as much, but still wasn't as sure as where I was getting product. After applying this product my skin was silky smooth soft, I loved that fact! It made it so touchable. The scent on this product reminded me more of peppermint, was very pleasing.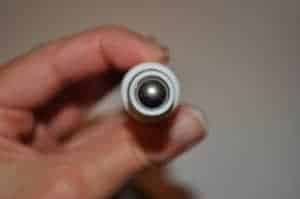 The roller ball applicator on all three
Overall I enjoyed using these products. I didn't notice a huge difference in my skin though, other then the slight diminish off my dark circles under my eyes after noticing they were much darker then normal. It was a nice line and one I would use again, especially once I notice more wrinkles and aging skin on my face.
I received one or more of the products mentioned above for free using Tomoson.com. Regardless, I only recommend products or services I use personally and believe will be good for my readers.