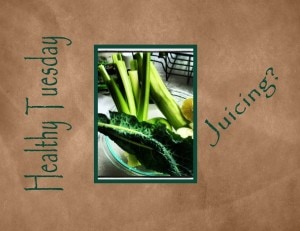 I have to admit I haven't "juiced" ever. It is something though that interest me. After so much research on my own and the benefits of certain fruits & vegetables and mixing them all together on your own, I have a juicer on my wish list of things.
I first came across hearing more about juicing from my close friend, Shane, in fact he helped me quite a bit with this post and was the first person I thought of when I thought "Hey, let's do a juicing post for Healthy Tuesday!". He started on his own huge health journey the beginning of this year,and the first step was the juicing!
I myself came across on how celery, especially while juicing, can help lower blood pressure and if you have been reading my posts you know that I have been wanting that for my husband, Jason. Interest peaked my journey on the concept of juicing began and juicer on wish list.
I love the idea that while juicing you can get so many of your daily servings of fruit & vegetables in one simple drink. That to me is a huge concept and something that is fairly easy to put into your daily routine.
Some tips that Shane had when it came to juicing as a whole are as follows:
A little ginger goes a long way!
Watermelon or any melon, will make your juice rather foamy (so be warned of that if you using them).
Cucumbers make a lot of juice and also should be fresh.
Beets make your juice sweet and give it a pretty color, but be warned that it does leave a bit of dirt taste in your juice.
If you plan to use mint or wheat grass it needs a special kind of juice that masticates it.
If you use non organic veggies, make sure to get that wax off the peel.
The best mix, he has found, is veggies 80% while fruit is only 20% of that drink.
Below you will find the recipe that is Shane's personal favorite:
2 red or Fuji apples
4 to 5 carrots
1 small piece of ginger
Blend those three together and enjoy!!
As you can tell juicing is super easy and there are so many varieties you could choose.
Have you done any juicing? Have any favorites you'd like to share with me, please leave it below in the comments. Do you have any personal tips for juicing?