I received these games free from House Party & Hasbro to host a party with, however all thoughts and photos are my own.

Have you heard of House Party? It's a site, where you can apply to host parties where they provide many items for your party. It's a fun event and only takes a few minutes to apply for each party that you'd like. No blog is needed, just your sweet self & your email address. Then if you are picked to host a party, you state that you are willing to post a photo a group photo with the people that attended & the number that did. Fill out a post event survey & send one out to your guest that attended, and that is it. You can have a fun party with someone else providing it!
Now this time I was accepted for the Hasbro Game Night. I was so excited. I love games! Could not wait to get my party pack & was doing everything I could to get people over to my house to attend a super fun night. This was my 4th actual party from House Party, but I have applied for more then I could ever count. Believe me it takes time to get picked for one, but its worth it to fill out their form & try to get some fun.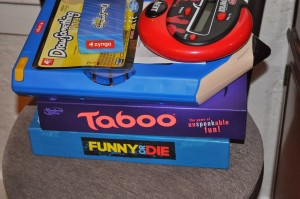 Included in my Hasbro Game Night pack were: Taboo, Funny or Die, Catch Phrase and Draw Something. Along with the games were a box of white natural cheetos, some cups that said Hasbro Game Night, and two crowns for the winners and coupons for both the games & the Cheeto's.
My husband and I decided we were going to do a Mexican food theme night to go along with our game night. We did up a homemade taco soup (no meat), a homemade chili (with no meat), chicken fajita dip, a white queso dip (that didn't turn out), and two different sangria's (Fall & Apple Cider). Everything turned out great and yummy minus the white queso dip, I was pleased!
I didn't get quite the turn out I was envisioning, but I did get people this time, and we had a great time. One of my closets friends Debbie (who I can ALWAYS count on) with her family – her husband Cameron and her two kids. Then we had my cousins Chelle with her husband Loren & their friend Jeanie. It was great time even with the small turn out.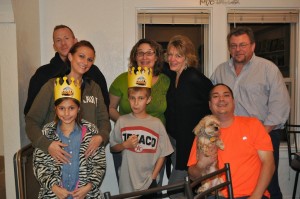 The games were great. We first tried out Funny or Die(on sale through the end of today(November 10th) at Amazon, get it now quick) and all loved it. The kids actually won both rounds we played. Lucky Ducks! Then kind of tried out Taboo (on sale at Amazon as well through the end of the day(November 10th), but didn't fully play at that time, and then did a couple rounds of Catch Phrase. Much fun! We didn't get a chance to try out Draw Something, but I love its screen.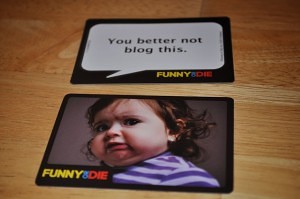 Caption & Picture Card from Funny or Die
Can not wait until our next game night, and I do hope its more a regular thing now that I am screaming at the top of my lungs that I LOVE game nights and hosting. 😉