Since I know I won't be around the computer much tomorrow, I wanted to make sure and get my Thankful Thursday post up tonight.
For those of you in the USA – Happy Thanksgiving tomorrow!! I hope your day is a happy filled one however you might be spending it. We will be going to my husbands Aunt's house, a few blocks down the road.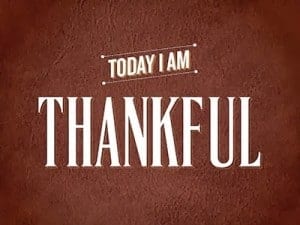 *snagged from Pinterest, I take no rights to this*
I am thankful that this is my last Thankful Thursday post. While I have enjoyed doing this and look forward to trying to figure out what to be thankful for this week, it was HARD. Looking forward to figuring out what will be my next Thursday thing – Ideas?
I am thankful for new experiences. They might scare the jeebies out me, but I enjoy them. Take this last Friday, we were asked out to Dukes – a local bar that is also a line dancing place. It was fun. I only did one dance, but I did that one (and was stiff as all get out), but I did it! I look forward to new experiences and making new life long friends.
I am thankful for Jason's indoor soccer. Yes it is his thing, and I don't do it, though I go with him to each and every game. It allows him to get exercise in that he enjoys and looks forward to. Another night would be perfect, especially if he could do it mid week sometime as well as Friday's. Plus we have met some amazing people because of indoor soccer and for that I am ever so thankful.
I am thankful I have a car that runs fairly decently. I have a 2002 Pontatic Grand Prix, and while I might not trust it fully, it runs well and has some pretty good power.
I am thankful for good neighbors. We have two sets right now that I trust fairly well and know if I needed something or something happened to our home they'd be there to tell us. Not everyone has that, and we are lucky enough to have two right now. I'd like to get to know them more but with me being quiet in person – its hard!
Bonus Thankful: I am thankful that I got my butt in gear and got to work and got several blog posts out today (one is pending until the business approves it). I had been totally slacking on getting them out, and I nailed it today!
What are you thankful for? What are your plans for Thanksgiving?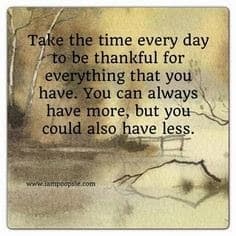 *snagged from Pinterest, I take no rights to this*