I was asked to write up about swaggable, I was compensated with some free products in return. As always though, all thoughts and opinions are completely my own and completely honest.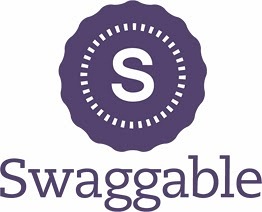 Have you heard of Swaggable? If not, you are in for a treat!
Swaggable is a program where you can get products to try for free, and all you have to do is come back to their site and write a small quick review on the product once you have tried it. Easy! And the best part for several of my friends is that you don't need a blog with this one since all you have to do is leave a quick little review on their site about the product. How great is that?
I have reviewed 10 items thus far, and sometimes I love the products and other times I just not a fan and you know what? That is quite alright! Love it or hate it or in between, just tell it like it is. Honesty is the policy here. Sometimes too the product samples I get are just to small to get a good feel on weather the product works well or I just love it. I sometimes come back just feeling very meh because I couldn't get a good feel for it.
I have to say though the product that I loved the most so far that I have reviewed was the Shelia G's Brownie Brittle, oh my gosh!!! Heaven in a bag if I do say so myself. I was floored on how good it was and how I got a completely normal sized bag to review. Score!
Check out this little video below that helps explain Swaggable a bit more:
There are a wide range of variety in what is available for review, it helps if you go around the site and click on things you'd like to sample & then you'll get an email stating you qualify to receive the product and have to go and click that yes you want it! Really truly, it couldn't be any easier to do a bit of sampling with this site. Go check it out from their
facebook
& click go to the app, and it'll take you right there to sign up and get sampling!
Or are you a marketer looking to get some word out about your products? Then check out this part of their site to get in on letting others know your products!