Todays is pretty boring for a blog post, not so much for the instagram.
I am reading The Bride's Rescuer by Charlotte Douglas, just one of those thin romances.
I am also reading Nightfall on the Kindle, but really couldn't get a picture of that.
I normally have a couple magazines to read too, but alas none of that right now! So a single book you get 🙂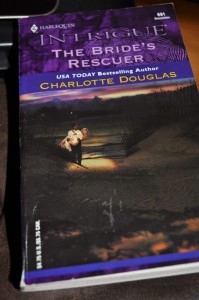 And in case you still want to play along either via Instagram or your Blog or both like I am. Here is the full month of prompts!