I received a sample jar of Hershey spread completely free from Crowdtap & Hershey to test and give my full and honest opinion on. All thoughts are truly my own though, the photos as well.

Have you heard yet about the all new Hershey Spreads from Hershey? They are hitting store shelves today, so you can check them out for yourself, but I was able to get a sneak peek a week or two ago. I ended up getting the Hersheys Chocolate with Almond – yum! There is also just Hershey Spreads with just Chocolate.
The possibilities of what you could do with these are really endless and only limited by your imagination. I must lack imagination right now because the only thing I have paired the Hershey's Spreads with thus far is apples. Its one of my all time favorite snacks with these spread like things.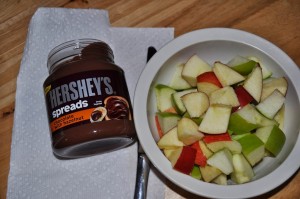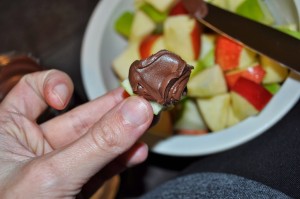 I also am thinking pretzels with them would be amazing, I must try this soon. My husband suggested waffles too, but we haven't yet to try that either.
What would you like to use with new Hershey Spread with? Give me some other ideas on how to enjoy the goodness!
I admit after I have finished my apple pairing, I take out a bit spoonful and just eat it like that. shhh though, its a secret.