I received this makeup free from BrandBacker & Stuido Gear to give my full and honest opinion on. However, I only recommend products I actually like and all thoughts and pictures are fully my own.


If you have been reading my blog for sometime you know I have a weakness for any makeup that has to do with the eyes. It can be eyeshadow, eyeliner or mascara, and I just go ga-ga over it and must stock pile to give me great joy and experiment with it all. Getting to try this new Studio Gear Cosmetics Smokey Eye Palette ranked pretty up there on the excitement level for me.
Have you heard of Studio Gear Cosmetics before? They have been around since 1996 and now are featured in many professional photo shoots, and many high end makeup departments! Featuring a wide variety of professional makeup brushes, revolutionizing complexion formulas, and a wide selection of colors for your eyes, cheeks and lips.
Yesterday as I was getting ready I decided it was past time to play with this new palette and see what I thought. I followed the amazing directions that came with the package to apply the eye color it was meant to be and wow, was totally amazed. I am in love with this palette. I had never liked my eyes as much before I don't think as I did yesterday.
I tried to put each color on my arm like others do to show the color better, but it just didn't show up on my arm, so alas that didn't work for me. But, hey! Who wants to be like everyone else? Included in this palette are platinum, frost, coal and glimmer eyeshadows and a snowy glow blush.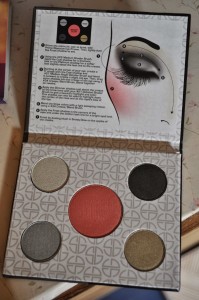 Start out with some primer on your lids to set your eyeshadow so it has more staying power throughout your day then lightly dust frost all over your lid to set. After that you can choose coal or platinum above your lash line to the crease, after that is applied add in some coal to your crease and blend together as needed. Apply the glimmer from the crease to your brow. Blend together and you have beautiful eyes. You may also apply the frost it the corners of your eyes and under your bottom last line for a bright eyed look. Finish by dusting blush in Snowy Glow on the apples of your cheeks – I never use blush, but did this a bit yesterday anyway!
Love it though. You must check it out.
You can snag a 10% by using the code: SGHOLIDAY at Studio Gear.
Right now the Holiday Smokey Eye Palette is $40 at Studio Gear, don't forget to use your 10% off!!
Powered by BrandBacker