Disclaimer: The following post is part of a campaign or review. I may or may not have been given an item and/or have been financially compensated for the following post. As always though all thoughts are 100% my own, as are most of the pictures included.
Disclosure: I got this product as part of an advertorial.
I loved my Healthy Tuesday posts, but sometimes just don't have any ideas on what to do for them. I am hoping that I'll have more topics to do with Healthy Tuesday again in the near future, but until then I'll just post for them when I do in fact have something fitting the Healthy Tuesday theme.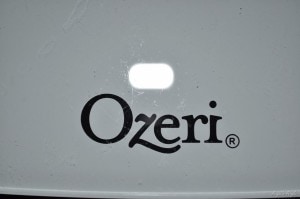 I was given to review the Ozeri Rev™ Digital Bath Scale with Electro-Mechanical Dial from Tomoson and was so excited to be approved because we have been needing a new bathroom scale for quite sometime now.

Our scale is very old and we didn't know how accurate it was, plus I couldn't clean it at all because it has these weird side running lines. It was hard to read and just overall needed to be replaced, as you can see below. Please don't look to closely at the grossness of it.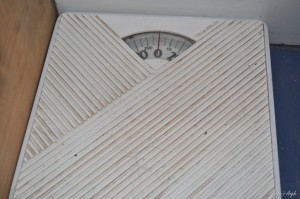 I was anxious to finally get this new beautiful scale by Ozeri to try out and more importantly to see what difference there was, if any, with the old and new scale. It was delayed a few times getting to me because of the bad weather, but finally reached my house for me to get my little hands on.

It was like getting a new toy when it arrived finally. My husband and I both took turns trying it out, and it was so easy to use. After putting the batteries, that were included, in the back all you had to do was step on the scale, and it weighs you. No buttons to push, no tapping before getting on it. Easy! Disregard the first reading though after moving it so that the scale may calibrate itself. The digital read out made it easy to know just how much you weigh.

The Ozeri Rev Digital Bath Scale with Electro-Mechanical Dial is made to weigh up to 400lbs/180kg but please treat with care since the top portion is a glass like material. Because it is made with glass do not use with wet and if water gets on it make sure to wipe it off before stepping on it to avoid accidents. Use only on flat surfaces as carpet or uneven surface.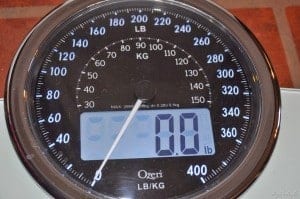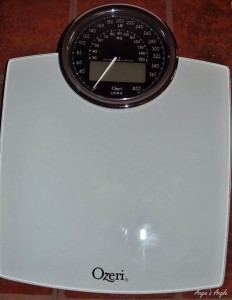 The scale uses 3 AAA batteries, which are included in the product when you buy it as I stated. It has a low battery indicator as well on the scale which will show as "Lo". You can also put in a daily reminder alarm if you choose so you can check your weight at the same time everyday.

We have been loving this scale though and have found it accurate. We found out our old scale was about 5lbs off, so this new scale came to me just in time! I love that the glass is easy to clean and no more dirty gross looking scale to look at. It does state that you should store/use your scale in a clean, dry location at room temperature. Dust, dirt, and moisture from humidity can harm the weighing sensors and electronics, causing inaccuracy or malfunction.

If you would like to try this scale, just click on over to Amazon and buy it. I am sure you will not be sorry if you do!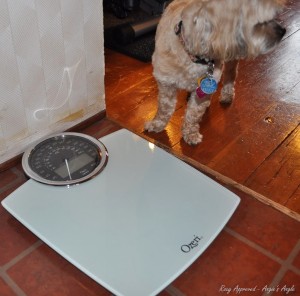 What kind of a weight scale are you using now? Are you in the market for a new one?

I received one or more of the products mentioned above for free using Tomoson.com. Regardless, I only recommend products or services I use personally and believe will be good for my readers.