Here we are in the 5th week of Catch The Moment and surprisingly I am still just as excited by this whole challenge as I was on day one. Yes, I sometimes don't remember, still, to take a picture or something until almost bed time, but I do end up remembering and documenting something at least.

I haven't been playing with my manual settings as much as I would have liked yet, sometimes I am just in for a quick shot with no time to play around. Would be easier if I knew more about the manual setting and in time I am sure I will. I'll get there!

There is always time to join along in this challenge, just click on my banner on the right side for Catch The Moment 365 to learn more and jump right in. You will love it if you do, promise!!

Without further ado, here are this weeks photos.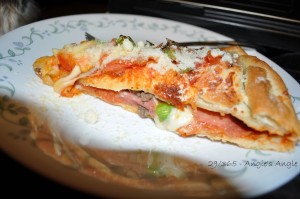 29/365 – Papa Murphy Stuffed Pizza – I had been craving this and had to have. So yummy and filling! – Sorry its not a great picture, I meant to snap a pic of the whole pizza and remembered once I had my slice, so did my best taking the photo from my lap!


30/365 – Did a couple loads of laundry and this is the clean basket ready to be taken upstairs to be folded/hung and put away.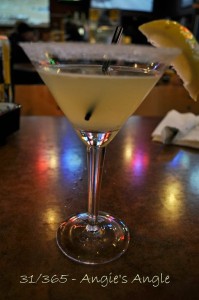 31/365 – Dinner out on a Friday, again, after soccer – in which Jason got that amazing head shot goal! This here is a lemon drop that was on special at Buffalo Wild Wings. Yum!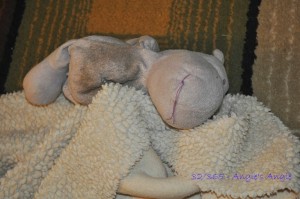 32/365 – The blanket hardly ever leaves her bed, but this night she went and dug out in her bed and left the blanket on her back as she jumped down. So on the floor it stayed for awhile and after she was done playing with Hippo, she laid Hippo down on the blanket. Thought this was a cute photo. Yes I wash Hippo a lot, but it still gets a very dirty belly!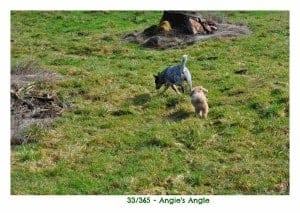 33/365 – We went out on Sunday before the Super Bowl to get load of much needed wood from Jason's sister, Renee's house. They have this dog Patch here with Roxy – Patch is still a puppy and Roxy isn't a huge fan of his when they are in the house because Patch is always up in her face. Get them outside though and Roxy is like okay – I like you now, but once we go back in – stay on your side of the house.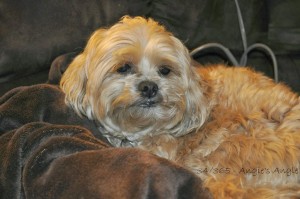 34/365 – A quick shot before bed of my baby girl all cuddled up in the heated blanket. This was the best shot I took where she didn't have her eyes closed or was turned in other directions.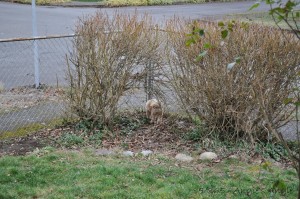 35/365 – This is what we now called Roxy's Princess Castle. The Fed Ex happily claimed this title and it has stuck but it was so cute and so fitting. Normally the bushes are of course all full and you can barley see her in there unless she starts barking.