This week's prompt for the all about me Friday's is to tell you all about a difficult time in my life. Thankfully I only have small handful to pick from, but it was still hard for me to choose which I'd go with. I decided that I'd go with my very first difficult time in my life.

I was 16, and it was almost summertime. Time to be free and do as I please. With no worries and no rush to do anything. That is what it was suppose to be anyway. It didn't turn out that way at all.

The morning of May 7th, 1996 started out much earlier and much more tragically than one could ever imagine at such a young age. My Mom woke me up in a panic somewhere between 2 and 4a.m. My Mom used to sleep on the couch and my Dad in the bedroom so they'd have two separate alarms during a work week to hear it and make sure my Dad got up to go to work, he was a logger. My Mom always got up a few minutes before Dad's alarm would go off so she could get the coffee going, and breakfast set out. This morning his alarm just kept going. It ended up he had passed away while sleeping that night/morning. We figured he had had a massive heart attack. He was laying on the floor beside the bed. I'll always remember him laying there, and me leaning down to kiss his cheek.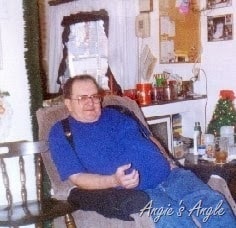 We played "There are Angels Among Us" by Alabama at his burial. While the song was playing one of the most amazing things happened. In the field there was a deer standing very close to us watching us all. We all believe it was dad. Angels come in all shapes and forms and for all of us that was a good sign, dad telling us he was alright. Dad loved many things. He loved reading history & western books, working on his truck, doing things outside, watching any kind of wildlife. He never was the kind of father that showed affection a lot, but you always knew he loved you.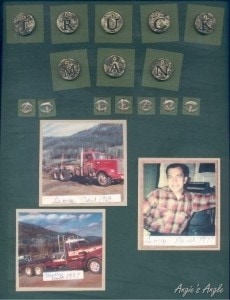 I'll always remember him whistling and knocking on the wall as he would come down the hall from their bedroom & bathroom. He'd make up little songs and say Hey I am a poet and didn't know it.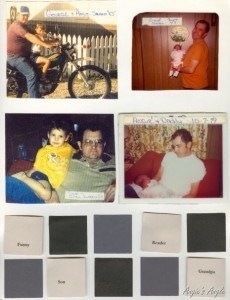 Oddly, some of the hardest times were a few months after my Dad passed, and my Mom started to go out for all hours of the night and I felt more like the adult. From that night morning on I felt like I had lost my childhood and my carefree days. The following year was hard, very hard. My Mom had been a housewife while growing up, and she had to get an outside job to help us along. But she was also acting out and again making me feel like I was the parent not the child.

Times did finally get better once she met Gene, even though I didn't really care she had met someone after I felt wasn't much time. Now I know that there is no set time, it just happens and you have to live your life and move on. Gene was a blessing in my life for many years after.

I still miss my Dad so much. I cried at many weddings before my own knowing that my Dad wouldn't be there to walk me down the aisle or dance with me. I knew he'd be there in spirit, but that still wasn't the same.

I'll always love you, Daddy.