Our lovely hosts are the following: Lisa at Coastlined, Nicole at Three 31, Jen at The Airzona Russums, and Becky at The Java Mama! Check them out and then play along!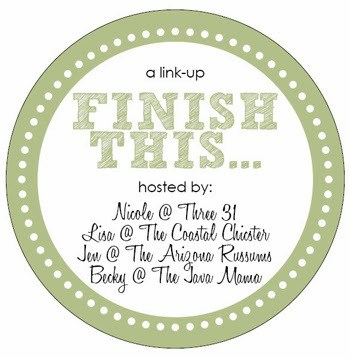 1. When I need help with life's mysteries, I turn to…
Swagbucks search and my husband. Usually both. Insight from both lets me usually find out all I need to know. Sometimes I'll do up a blog post to get other peoples insight on whatever it is I am sitting on.

2. My next challenge is figuring out…
My camera more. I have a beautiful Nikon DSLR, and I love and adore it. But I really want to learn the manual modes more and take the control more into my hands. I have had the camera for several years now, but I just haven't learned the manual settings yet, this year I plan on actually taking steps to learn it.

3. I shake things up…
I am not sure. I have been sitting looking at this question for quite sometime. I am not even sure how to finish it. I like routine and set schedules, but I also like surprises. So I am still not sure how to finish this statement this time around. Ideas?

4. High heels are…
Great. As long as they are the type I can walk in. I love how tall they make me. I am fairly short at 5'4", so that added height is amazingly fun.