Disclaimer: The following post is part of a campaign, review or sponsored post. I was given the product and/or have been financially compensated for the following post. Post may also contain affiliate links. As always though all thoughts are 100% my own, as are most of the pictures included.

Are you dreaming of the tropics? Or of at least warmer weather, suntan lotion, and that amazing thing the sun does to your body and mind?

Why not go out to Bath & Body Works and grab their new line that is inspired by Hawaii! Which includes all things luaus, tropical flowers, and beautiful sunsets at the beach! There are three different Hawaii inspired scents: Oahu Coconut Sunset, Maui Hibiscus Beach, and Hawaii Passionfruit Kiss.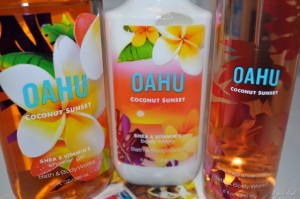 I received the Oahu Coconut Sunset trio which is just amazing!! Bath & Body Works describes it as a sexy blend of coconut blossoms & exotic tiger lily warmed by molten amber. I received the body wash, body lotion, and every addicting body mist. When I smelled it as soon as I received it in the mail, I was immediately in love with the scent and made me completely happy.

If you love the smell of freshly applied suntan lotion, then you will LOVE this new line. I used the trio and fell even more in love with it as a combo power pack.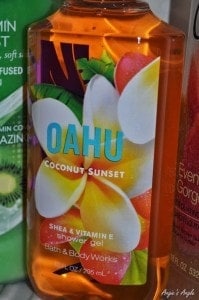 It made me think of summertime and carefree days of summer. Which is much needed this time of year when Spring hasn't yet decided to hit and winter blues are really setting in.

Happiness in a bottle is what I'd like to call it!

In stores now! Go get yours and take a whiff!