I decided it would be fun to introduce you to one of my favorite people, Rose from Immutable Ramblings. We have been blogging friends for quite few years now, actually met through a Christmas Secret Santa Swap. She is an amazing crafty gal, I am in awe of her talent.

Without further ado, I give you Rose! I gave her a few questions to answer to get the ball rolling.
Hello Angie's Angle Readers, thank you for having me. I'm Rose! I'm the Author of the blog Immutable Ramblings. I'm a SAHM of 4! Yes, I've got 4 children, a son who's 17, and three daughter's ages 14, 13 and 4. When I'm not chasing down my 4 year old, carting around my teens, or being a fabulous wife to my loving, supportive, hardworking husband, you'll find me crafting, documenting or journaling our memories. At Immutable Ramblings, I share all things me, from crafting to cooking, reviews and giveaways, fashion and beauty or life in general. I started the blog as a means for self-preservation through self-expression, but it quickly grew, and now, I just hope that my experiences will one day help and touch my readers.
1. If you could have any job you wanted, what would you pick and why?
Oh, there are so many different jobs that I dreamed about growing up, I wanted to be an optometrist, because of my eye issues, one doctor completely fascinated me with the level of information he provided. Then there was an Architect, I loved the idea of designing structures and creating a visual point of interest. Then there was the Interior Designer in me, who loved to decorate, create beautiful, yet function room décor, but once I started the classes, I realized that the ladder to climb (though a necessary evil) was too steep for me.

One of my favorite all time movies is "The Net" with Sandra Bullock, I loved how she was able to gain access to pertinent information by "hacking" the system, that's when I became fascinated with investigation, I loved hearing my fingers stroke the keys, and I wanted to be her, the puzzles, the clues, I fell in love with computers, but never actually learned to "hack" a thing.

That's pretty much when I decided that I wanted to be a detective. But the more I thought about it, what interested me most about it was the Crime Scene Investigation, the Forensics aspect of it. I wanted to filter through the clues, determine what the evidence is, and help solve the crime that way. That's my DREAM JOB, my husband says that I am TOO squeamish, and that I'd probably freak at the sight of blood and high tail it out there and he's probably most certainly right!

2. What first prompted you to start a blog?
Honestly, I first started blogging for a History course I was taking at my local community college, and I HATED it! I didn't enjoy writing about the topics he recommended. In fact, that's why my previous blog address used to be http://rapowell.blogspot.com, because it was "required for the course. I'm so happy though that I hadn't given up on it all together after the course ended, I soon took my love of writing, and started by writing personal pieces, like a journal, and then I met some great bloggers who taught me some things, and in fact, that's how I met Angie, from Angie's Angle, we "ran" in the same blogging circles and she was my "Secret Santa" our first year in the group.

3. What is your favorite crafting item right now? What do you do with it?
Be still my heart, you've asked me a question about my hearts passion, I love to craft. I've always loved to craft; I've just evolved over the years and have learned that what I love best is paper crafts. So if you make me choose just one crafting item, I'd have to say its tape adhesive, it's been out for many, many years, but I personally just started using it a few years ago. It rids you of drying time, it adhere so many different mixed media items to your project and all of that bumps, bubbling and curling of paper is a thing of the past.

4. Who do you most admire and why?
My Mother-in-Law, Deborah, but if I went into depth about everything I'd probably end up crying like a baby. So what I will tell you is that she is THE strongest woman I've ever met, she fights through the pain from her illness without any complaint or fuss, she does this silently as to not look for sympathy. She is just a vision of happiness, every time you see her. She's loving, accepting and non-judgmental in ANY way. She's treated me with nothing but love and respect from the very first day I met her and for that I admire her beauty, both inside and out.

5. Name 5 things you couldn't live without.
I'll keep this one simple, Ryshine, Jeremiah, Isis, Janelle and Isabella. There is nothing more important to me than the love and support of family. They are my strength, my reason for being; they're everything to me because they inspire me to be who I am for and with them.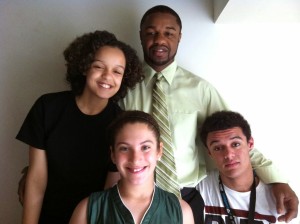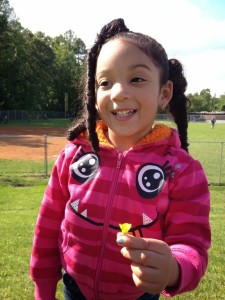 But, if I must indulge a bit (not in order of importance):

Coca-Cola
Crafting
Journaling
My family
DVR

6. If you could completely redo any room in your own, which would you choose and why? What would you do with it?
We don't "own" the home we live in, so redoing any room is almost impossible, though we've made some updates to the house, with a little paint, adding new outlets, lighting fixtures and faucets. My dream is to create me my own private office (a door is a must), full of beautiful color, a fully functional LARGE desk, shelves and drawers and super spectacular organization in apothecary jars, trunks, and I must have a vintage typewriter and rotary phone in it, if you couldn't already tell, it most definitely must have that vintage appeal.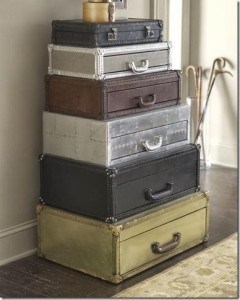 "Suitcase" Stacked Chest I love "trunks", this would be fabulous!!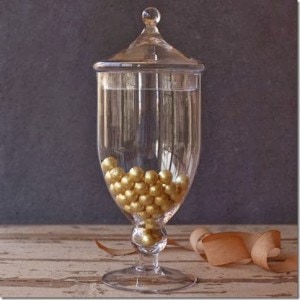 'Trophy Apothecary Jars'. on Minted.com (I love these)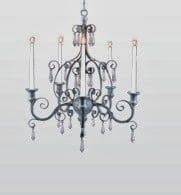 I've always wanted a chandelier!
I like this for a new craft room chair. Old office chairs on wheels aren't overly comfortable.