Disclaimer: The following post is part of a campaign or review. I may or may not have been given an item and/or have been financially compensated for the following post. As always though all thoughts are 100% my own, as are most of the pictures included.
An ongoing joke with Jason and I is that I tend to get certain things in a category quite a bit in a time frame and we'll take forever until we need to buy them again ourselves. One of those things recently has been hand soap. We are stock piled. I had even bought some Dial at Fred Meyer at the beginning of the year to get some money back at SavingStar. Now I just keep getting hand soap after hand soap to test out. I am not complaining in the least, I think it just funny.

Now we are testing this new version of Dial hand soap that is pretty amazing in itself.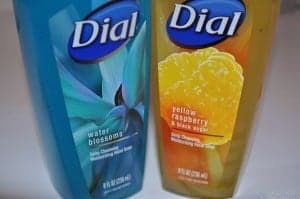 Dial Deep Cleansing Hand Soap has these amazing little micro-scrubbers in the soap that make your hands feel amazing. Having these amazing little micro-scrubbers in the soap, with their new vibrant scents and refreshing moisture makes this a premium soap at a an inexpensive price.
Dial Deep Cleansing Hand Soap come in three amazing scents:
Yellow Raspberry & Black Sugar – refresh your senses with tartness and sweetness all rolled into one.
Water Blossoms – crisp floral scent inspired by aquatic botanical.
Coconut Lime Verbena – juicy and tangy citrus that helps brighten your day.
I ended up receiving to review for my pleasure in the yellow raspberry & black and water blossoms. I have only opened the yellow raspberry & black sugar thus far though. I ended up putting in our upstairs bathroom and I have to say its pretty amazing!! It smells so incredible, I kind of just want to eat it. The micro-scrubbers in the soap feel amazing and make my hands feel so soft and touchable while smelling just as yummy. I could see this soap being good for super dirty hands, after a hard day working the dirt or with grease and oil because of the micro-scrubbers really grabbing that dirt and yuck.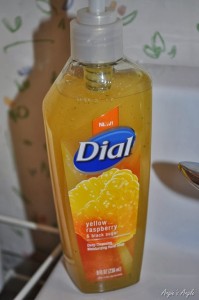 I am so happy with this soap and think you will be too. Which is why you are lucky enough that I have a great giveaway to give you all. I have 5, yes 5, coupons for a free Dial Deep Cleansing Hand Soap. Five of you will win and I'll get the coupons out to you right after you give me your address because they expire by the end of this month, its urgent I get them to you as soon as possible.

Please fill out the rafflecopter below for your chance to win, as always the first entry is mandatory and after that its just extra entries. Allow the rafflecopter a moment or two to load. USA only please. Winners will have 48 hours from me emailing me them as the winner to get back to me or I will be forced to pick a new winner.