Disclaimer: The following post is part of a campaign, review or sponsored post. I was given the product and/or have been financially compensated for the following post. Post may also contain affiliate links. As always though all thoughts are 100% my own, as are most of the pictures included.
I don't know about you, but I am always looking for the new best thing in most makeup products. I like experimenting cause you never know when you'll find your next can't live without product.

A bit back story to go along with Studio Gear from them personally:
Studio Gear Cosmetics is a prestigious cosmetics brand featuring a full collection of professional makeup brushes, revolutionizing complexion formulas, and a wide selection of color products for the eyes, cheeks, and lips. This is a line created true to the concept that every woman deserves professional, high quality cosmetics at a reasonable price.
The Studio Gear Professional Brush Collection is the core of the line. Made only from the highest quality hairs and hand-tied for unbeatable quality, women around the country are using this collection to enhance their makeup application and express their creativity with precision. Customer loyalty is ensured through a lifetime product guarantee and with over 40 tools, everything from basic to advanced techniques are covered.

The Studio Gear color palette is vibrant and original – the colors are true, pure, and precise. The simplicity and quality in the eye shadows and lipsticks provide staple colors for any look, whether it be timeless or trend. Customers ask for products by name and keep coming back again and again.
Which of course led me to jumping at the chance to try out and review the new CC cream line from Studio Gear. Studio Gear Hydrating CC Cream works its magic by being a light, smooth formula. You barely notice its on, which is just lovely. It also helps fight aging, retains moisture, and covers and treats blemishes with a non-oily, perfectly radiant finish.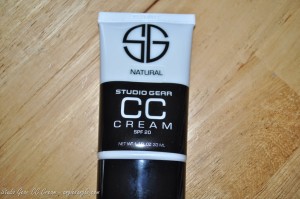 I picked the Natural tint, but you may also get it in Linen & Wheat.

It goes on smooth and covers up my skin with little effort. My skin is not pretty. It has new and old acne, it has slight bumps and imperfections, and I have an oily t-zone so finding the right product for me can be tiresome.

I am happy to report that I was completely pleased with this CC cream. It covers and leaves my skin smooth and baby soft while looking like its my natural skin. Super bonus points because it has SPF 20 in it!

I'll share with you before and after pictures to try and get an idea of how well it worked for me personally.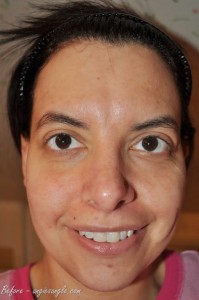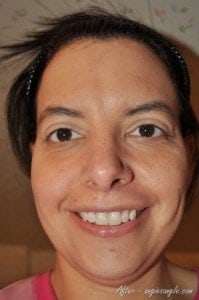 I think you can tell the difference in the two pictures. My face seems smoother, my tiny bit of redness has been reduced. While the angles are exactly the same, it gives you a good idea just how well the product works. FYI – It looks better with your full makeup on as well.

Happily for you all I have a special discount to get you 10% off at Studio Gear. Just use: bloggercc at checkout.

Do you use any kind of CC or BB Cream? Do you have a favorite or still looking for that perfect one? If you are still looking for that perfect one, check out this one!
Powered by BrandBacker & Studio Gear