Disclaimer: The following post is part of a campaign, review or sponsored post. I was given the product and/or have been financially compensated for the following post. Post may also contain affiliate links. As always though all thoughts are 100% my own, as are most of the pictures included.
Being a member of Crowdtap is amazing sometimes, especially when you get to sample & share an amazing new paper towel.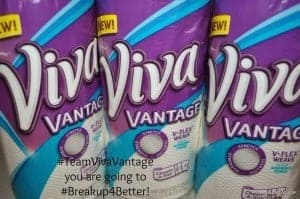 I have been trying the new Viva Vantage for a few days now and I have to say I am pretty darn impressed.

I love that you can choose the size you need, plus the thickness of the actual paper towel is pretty amazing. It has also has V-Flex weave which help that scrubbing power.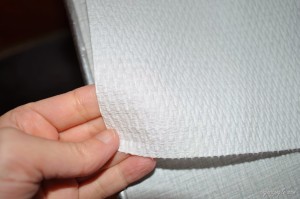 Used them Sunday night to clean the griddle after frying up bacon for BST's and wow, was super easy (completely forgot to take a picture like I should have). It also picks up water spills amazingly while still having wiping power. My fingers do not poke through no matter how wet it is, it still feels strong and put together.

Completely amazed by this paper towel. No lying.
I haven't been able to give out the three others I have to give to others since I just received these a few days ago. I should have gave a roll to my mother-in-law after she watched Roxy Saturday night, but I truly just forgot. Would have been a perfect tester though!
I think you should all go out and find the new Viva Vantage, you'll want to Breakup4Better without question!
Have you already tried the Viva Vantage? What did you think if you have? If not, what draws you in to try this new paper towel?