This was my very first time playing along with the Pretty Little Beauty Swap and I had such a great time. I can't wait to play along again.

I am a little later then I would have liked getting my post up with vacation, slow connection and just other nonsense, thankfully here I am with it though. Sorry for the mass updates today, this should be the last one, and then everything else I do today should be on a schedule.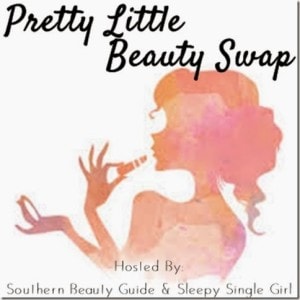 The fun of the Pretty Little Beauty Swap is you are assigned a partner, and you get to know them for a month time frame through email and their blogs so you know what kind of beauty products that they like and the following month you send them out a box of goodies. How fun is that? Hosted by three lovely ladies; Chelsee from Southern Beauty Guide, Justine from Sleepy Single Girl, and Ang from Hairspray and Highheels.

This time around Kelley from One Hot Southern Mess were partners. She gave me everything in this cute little pink bag and was just so pretty. Check it out!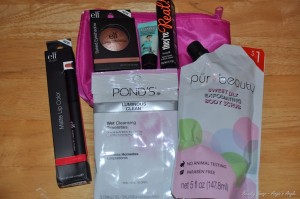 Cute, right? I am excited to try the body scrub the most – I haven't had a real chance to use it just yet but its on the top of my list. I have been wanting to try the Pore fessional from Benefit too!

Thanks Kelley!!