Disclaimer: The following post is part of a campaign or review. I may or may not have been given an item and/or have been financially compensated for the following post. As always though all thoughts are 100% my own, as are most of the pictures included.
I have been a member of Influenster for quite sometime now, but hadn't received a full sized box for quite sometime. I was excited to finally get one again with the J'Adore VoxBox. Filled with goodies for both myself & Jason, how perfect is that!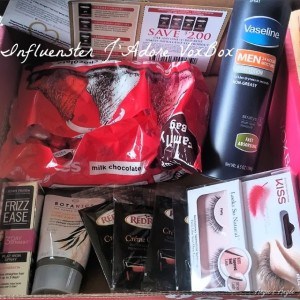 Included in my amazing little box were the following products. I will just highlight them and then later I will do one blog posts on some to dip a bit deeper into each product.


Boots Botanics Shine Away Ionic Clay Mask: $9.39
A mineral-rich clay mask. Designed for use on normal skin, while being unscented and hypo-allergenic formula absorbs excess oil and deeply cleanses skin. Skin will feel softer and smoother. I am most excited to try this one. I love masks and this one sounds like it could help my shiny t-zone as well.

Hershey's Kisses Milk Chocolates: $5.29 for the 18.5oz bag I received

Frizz Ease 3-Day Straight Flat Iron Spray: $9.99 for 3.5 fl. oz.
Achieve 3 days(or until your next shampoo) of straight hair without weighing down your hair. Infused with Keratin, protects again heat damage and blocks frizz making hair glossy, smooth, and swinging with body.
KISS Looks So Natural Lashes: $3.99
Made with Tapered End Technology so lash strips blend seamlessly with your own lashes. Light and comfortable you'll forget you're wearing them.

Red Rose Simply Indulgent Teas: $4.49 for carton of 20 tea bags

Vaseline® Men Spray Lotion: $7.99 for 6.5 oz. can
Continuous spray lotion that moisturizes deeply and absorbs in seconds to tackle dryness fast. Skin feels instantly moisturized – not sticky or greasy.

Jason was excited that there was really so much in the box that was his more then mine. The lotion of course was for him right off the bat. But since I am not a huge fan of chocolate, the kisses have been basically his as well, and the teas will most likely be more used by him then I since he has to basically sit on me to drink hot tea when I am sick.



I am excited to come back and dig a bit deeper into a few of these products. Look out for quite a few more posts upcoming about the Influenster J'Adore VoxBox goodies!