Disclaimer: The following post is part of a campaign, review or sponsored post. I was given the product and/or have been financially compensated for the following post. Post may also contain affiliate links. As always though all thoughts are 100% my own, as are most of the pictures included.
Disclosure: I got this product as part of an advertorial.

As you probably know I love finding new things for my face to try out. Beauty products are my top "thing", without a doubt. Which is why I was pretty excited to give the Natures Best Vitamin C Serum a try.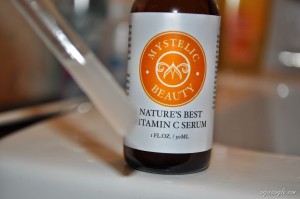 I have been dealing with some acne, and some redness. I do have slight wrinkling starting around my eyes, but nothing super noticeable or bothersome. I am sure there are other things going on with my skin that I am just not noticing as well. After all I do not have great skin and never have claimed to.

I didn't think about taking photos before and after this process, but I really didn't notice a huge difference in my skin personally while using it. Its only been a couple solid weeks though that I have been using it, so I plan to keep using it and do a later update on it.
Nature's Best States:

– Works for all skin types, dry, oily, sensitive as its made from Pure Natural Organic Ingredients.
– Reduces acne by removing toxins & creating collagen for firmer, plumper, healthier skin.
– Minimizes Redness of scars and acne by lightening pigment showing a more youthful you.
– is the perfect consistency for applying, not to watery.
Amazing Benefits to Your Skin are:
– Instantly gain a smoother complexion and tighter skin for a more radiant beautiful you.
– Antioxidants reduce skin damage caused by years of aging, uv rays & pollution.
– Reverses the effects of aging, reducing fine lines and wrinkles.
– Stimulate the synthesis of collagen making your skin look years younger, firmer, & more vibrant.
It felt a bit sticky when I first applied the product, but quickly absorbed and I was able to put on my moisturizer fairly quickly with no issues. It has absolutely NO smell, that kind of surprised me. I guess I thought since it was Vitamin C it would smell like citrus. Good for those that don't like scented products though!

Like I said though, I plan to keep using the product and take a bit more note on if I notice any difference in the way my skin is behaving!

Wanna go buy the Natures Best Vitamin C Serum? Then go to Amazon now and buy it – it has some GREAT reviews going for it!

I received one or more of the products mentioned above for free using Tomoson.com. Regardless, I only recommend products or services I use personally and believe will be good for my readers.