Disclaimer: The following post is part of a campaign, review or sponsored post. I was given the product and/or have been financially compensated for the following post. Post may also contain affiliate links. As always though all thoughts are 100% my own, as are most of the pictures included.
I love being a part of the Bath & Body Works insider program. I have already gotten some amazing fun things to test and review while being able to tell you all about them.
I should have had this one up quite a while ago, but alas I don't know what happened and I never got it up. I always say its better late than never though.

Bath & Body Works wants to take you on a trip through the French Countryside with their new line.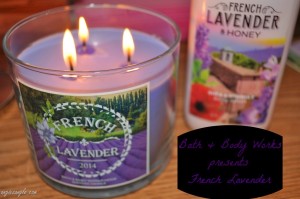 When I first smelled the Lavender & Honey body lotion that I got in my little kit I did not like it, at all. I thought oh great I get something I just can not stand. But I was a trooper and tried it on one day after a shower and was very pleasantly surprised. I LOVED the scent. I was in awe. I have never had that happen before. I always going around smelling things and if I like the way it smells, then great if not moving along. I am usually not a fan of lavender smell at all, but this was a nice scent while on. One I actually feel in love with.

The French Lavender three-wick candle was very overpowering while just smelling it when you open it. Thankfully the scent was very calming once lit. I love that it has three wicks so you can actually use the whole candle.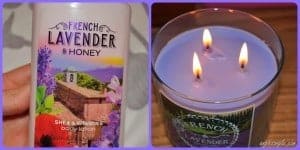 Overall I like this new scent line from Bath & Body Works. Have you smelled it yet? If so, what did you think?

Bath & Body Works provided me with the above products in hopes I'd review them on my blog.