As I have said quite often, I try for one to two days a week of meatless meals. Not only is it healthier for us but will hopefully help my husband's blood pressure come down in addition to all we are doing. I sometimes though have the hardest time finding meatless meals. Today I am sharing the meatless meal we made last night and turned out actually pretty tasty and filling while being healthy & meatless – bonus points!

I found the following recipe in Taste of Home: Comfort Food Diet 2011.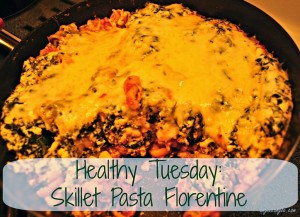 Skillet Pasta Florentine

serves: 6
3 cups uncooked spiral pasta

1 egg, lightly beaten

2 cups (16 ounces) 2% cottage cheese

1-1/2 cups reduced-fat ricotta cheese

1 package (10 ounces) frozen chopped spinach, thawed and squeezed dry

1 cup (4 ounces) shredded park-skim mozzarella cheese, divided

1 teaspoon each dried parsley flakes, oregano, and basil

1 jar (14 ounces) meatless spaghetti sauce

2 tablespoons grated Parmesan cheese
Cook pasta according to package directions. Meanwhile, in a large bowl, combine the egg, cottage cheese, ricotta, spinach, 1/2 cup mozzarella, and herbs.
Drain pasta. Place half of sauce in a large skillet; layer with pasta and remaining sauce. Top with cheese mixture.
Bring to a boil. Reduce heat; cover and cook for 25-30 minutes or until a thermometer reads 160°.
Sprinkle with Parmesan cheese and remaining mozzarella cheese; cover and cook 5 minutes longer or until cheese is melted. Let stand for 5 minutes before serving.
Nutrition Facts: 1 serving equals 383 calories, 9 g fat (5 g saturated fat), 73 mg cholesterol, 775 mg sodium, 47 g carbohydrate, 4 g fiber, 27 g protein.