Disclaimer: The following post is part of a campaign, review or sponsored post. I was given the product and/or have been financially compensated for the following post. Post may also contain affiliate links. As always though all thoughts are 100% my own, as are most of the pictures included.
When we were first taught how to do laundry, we were told you must sort by dark's and lights so you don't have color mishaps. You'd spend half of your time sorting your laundry before even doing it seemed. Time seems like such a precious thing to waste, so why waste it anymore?

Purex came out with this new line of laundry detergent, where you no longer need to sort. Awesome, right? I'll let you in on a little secret of mine though. I haven't sorted laundry in years. I do occasionally do a white load that might need some bleach, for 99% of the loads its all together. Why? Because I found washing only in cold water there is no bleeding. Everything washes just as well too. I do wash new things by themselves and the first time whatever setting it says to wash it in. Otherwise, it all gets thrown in all in one load.

Still this new line of detergent is intriguing and so helpful!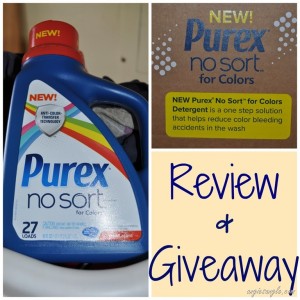 Purex No Sort for Colors detergent is the latest laundry innovation from the Purex brand designed to simplify your laundry routine. We all want that easy route on things and help us get things done quicker without a million steps. Purex No Sort for Colors detergent features a breakthrough Anti-Color-Transfer Technology which traps loose dyes in the wash and reduce color bleeding accidents in your mixed loads leaving your clothes bright and clean.

While Purex No Sort for Colors is innovated, it can't perform miracles, so please make sure to wash strongly colored fabrics or new pieces of clothing, especially jeans, separately at least 5 times before doing a mixed load of laundry.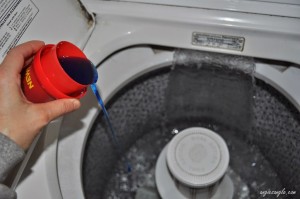 Go out and grab the new Purex No Sort for Colors detergent today. Say good-bye to bleeding stains, stop sorting laundry, and color bleeding accidents.

To celebrate the release of the new NEW Purex No Sort for Colors detergent, the Purex brand is hosting a special sweepstakes. One grand prize winner will win $1,000 and 100 2nd place winners will receive a coupon for a free Purex No Sort for Colors detergent. Enter the sweepstakes here.

But wait! I have one mores special thing for you. You can win 1 of 3 coupons to grab yourself a free Purex No Sort for Colors detergent right now. Just enter the giveaway tools below. Winners will have 48 hours to get back to me after being picked as a winner or I will be forced to pick a new winner. USA only please.

Purex gave me a free product to review and gave me the coupons to do as a giveaway.