Disclaimer: The following post is part of a campaign, review or sponsored post. I was given the product and/or have been financially compensated for the following post. Post may also contain affiliate links. As always though all thoughts are 100% my own, as are most of the pictures included.
I first spotted this book on my friend Shauna blog, Pickle & Peppers where she had been hosting a giveaway for it, I was all upset because I had missed the giveaway somehow and the book looked and sounded amazing. So she set me up with the publisher and here we have the amazing little book that I was lucky enough to get my hands on.

Letters to Ann by Ann Marie is a beautiful book filled with letters throughout the Korean War from 1950 to 1951. Written not by the actual Ann from the book, but by her sister-in-law. The author jokes that there are just too many "Anns" in the family.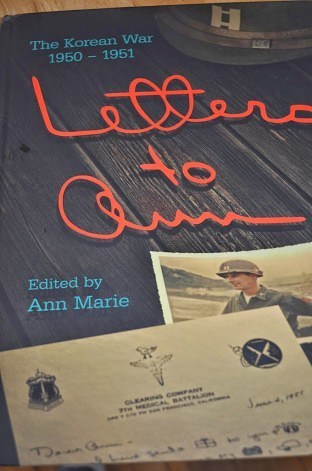 Of course the whole book is written in letter form, which I love. There is something about books that are arranged as letters or journals that I find exciting and different and immediately pull me in.

Description from Amazon about the book:
With North Korea rattling its saber again, Letters to Ann takes the reader back to the early years of the Korean War. Even in some of its darkest moments, Captain John F. Hughes finds and shares bits of humor about his daily military existence with his then four year-old daughter. It is a unique perspective of what often is called "The Forgotten War."
The letters themselves are amazing because of the drawings John F. Hughes does in them. Most of the letters are photo copied from the original letter, but one letter had made it all these years and was the original Take a peek at that one below.




You feel the war throughout the letters, but they are also filled with love and humor. In the book they even include actual pictures that John took while over there.

One of the drawings really had me giggling, which again if you take a peek below. Can you tell me why it made me giggle so much?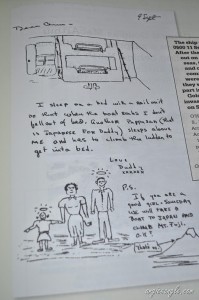 One of the letter they inserted a picture of then Ann & her Mom which I wanted to share with you all as well below. Also take note of just how amazing his drawings are. The whole book just left me amazed with his cute and sometimes really detailed drawings.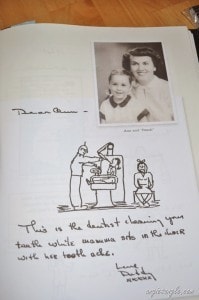 At times the writing was hard to read, but it only happened a few times and really is to be expected.

Overall a lovely book. If you love history and letter formed books, you will love this one and really need to go buy it now!

Check it out on Amazon – Letters to Ann: The Korean War 1950-1951