Disclaimer: The following post is part of a campaign, review or sponsored post. I was given the product and/or have been financially compensated for the following post. Post may also contain affiliate links. As always though all thoughts are 100% my own, as are most of the pictures included.
We always think about brushing our own teeth and our children's teeth, but do you think often enough about brushing your dogs teeth?

You know its JUST as important to keep your dogs teeth clean and well brushed. Which is why Milk-Bone came out with the new Brushing Chews. A treat for your dog that helps clean their teeth without them knowing it. How awesome is that?

I give our Roxy girl a nightly dental bone at around 6:30p.m. each night. And boy does she know when it is time for that bone and she'll let you know. She loves it and I am more then happy to give it to her knowing its helping her pearly whites.

I was thrilled to test the new Milk-Bone Brushing Chews. Knowing that Roxy would be just as thrilled too helped in the matter, she loves when I mail comes and its for her!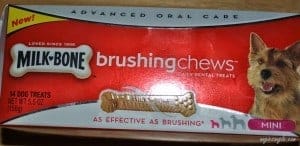 About Milk-Bone Brushing Chews:
*When fed daily, Milk-Bone® Brushing ChewsTM are clinically proven to be as effective as brushing your dog's teeth twice per week based on the reduction of tartar build-up and bad breath
Milk-Bone® Brushing ChewsTM feature a specially designed 75 degree twist that helps the brushing nubs reach down to the gum line, even cleaning hard-to-reach back teeth
Milk-Bone® Brushing ChewsTM are clinically proven to reduce tartar build-up, as well as freshen your dog's breath, bringing you and your dog closer together
Milk-Bone® Brushing ChewsTM are so effective that they have earned the trusted Veterinary Oral Health Council's (VOHC) Seal of Acceptance, similar to the American Dental Association (ADA) seal seen on human dental products
12 essential vitamins and minerals, including calcium for strong bones and teeth
Roxy & I's Thoughts on Milk-Bone Brushing Chews: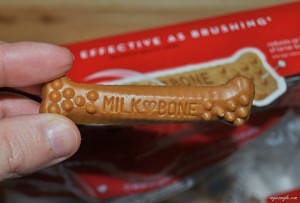 We loved them. Roxy was thrilled to get them each night and she danced around when it was bone time. These take her a bit longer to actually chew then her other dental bone, which is nice. I think its getting her teeth a bit more clean then her regular bone because it is taking her so much longer to chew it up. I love that the bone is slightly twisted to help cleaning with little nubs and ridges to act like a toothbrush on her teeth.
Love this bone and very likely to switch to these ones in the future. We are both pleased parties on this review!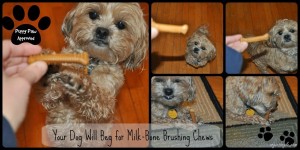 Milk-Bone provided me with a Visa Gift Card and two boxes of Milk-Bone Brushing Chews so I may give my full review. As always though all thoughts are 100% my own.
Giveaway
Win your very own box of the new Milk-Bone Brushing Chews plus a $25 Visa Gift Card just by entering the giveaway tools below. USA only. Winner will have 48 hours to get back to me after I email them as the winner with their mailing address. Milk-Bone is in charge of getting the prize to the winner, not Angie's Angle. Good luck to all!