Disclaimer: The following post is part of a campaign, review or sponsored post. I was given the product and/or have been financially compensated for the following post. Post may also contain affiliate links. As always though all thoughts are 100% my own, as are most of the pictures included.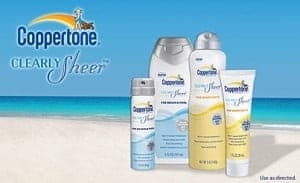 We all know by now, or should, that we need sun protection every single day we go outside no matter if its sunny or cloudy, the UV's are still out there and can harm you. I know that sometimes its easy enough to forget with this new line, it makes it even easier to remember and use sunscreen.
Introducing Coppertone ClearlySheer

Absorbs in seconds for a clean and light feel
Moisturizing formulas help leave your skin soft and smooth
Won't clog pores or cause breakouts (clinically tested on acne-prone skin)
Matte finish is perfect for use under makeup
Available in both spray and lotion to fit your needs and where you are applying it
Personal Thoughts on Coppertone ClearlySheer
My husband and I have both been using the lotion and the spray anytime we think about it. Its so easy to apply and really does absorb in seconds, which you would know if it didn't because my husband would complain that this feels stinky, I don't like it. And he used it with no complaints at all. Score!
I tried to use the lotion on my face instead of my regular face moisturizer but that didn't work too well for me personally. I noticed a bit more of an oily t-zone when I did. Anywhere else though I used it, no shine, nothing. It was like I had nothing on me even though I know I did.
I was completely protected with no worries.
Below you see my legs, the left side is the lotion applied and the right is the spray. You can see a bit more shine right after applying with the spray, which I think you can kind of see in this photo, but quickly goes away and looks normal.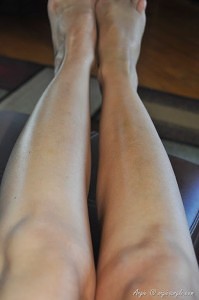 You should totally go out and grab yourself some of this, you will be completely pleased with it and I bet your whole family would be as well. Honest!
I received samples from BzzAgent of the Coppertone free to review on my blog.