Finish This…Week #30 is upon on us. I have missed a few weeks over the course of this being an active link up, but for the most part I have done them all. What a fun thing to say! Why not take a moment and throw out a post of your own and link up with these lovely ladies? It's quite a bit of fun!
Finish This wouldn't be such a success without the following beautiful ladies – Our lovely hosts are the following: Lisa at Coastlined, Nicole at Three 31, Jen at The Airzona Russums, and Becky at The Java Mama! Check them out and then play along!
Finish This…Week #30 Prompts:
My most memorable style was…
haha – now that is funny! I don't know that I have changed my style over the years at all. I am pretty me. Comfortable, non-stylish, do what feels good for me. Though I do have a vision of me wearing these really cute short overalls. Wish I had a picture of them to share here.
I dress to impress when…
going out with friends, a wedding, or any special gathering. I like to feel good about how I look when going out in public. My favorite dress lately is this black and white one with a lace trim in the middle – I'll share a pic down below. I also love just wearing jeans and a nice blouse/shirt, something that I feel good and think looks good.

The best style tip I ever received…
I don't know that I received any styling tips. The one thing that keeps going around in my head though from this question is "Wear what makes you feel good". Don't worry about what is in fashion and what isn't. Listen to yourself and what you like.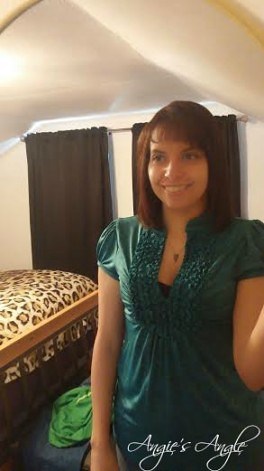 Three wardrobe staples in my closet…
Tank top or cami's – doesn't matter what style they are, just love the different variety of colors and designs. I like to wear them alone in the summer, double them up to make it a bit more colorful and fitting, or under shirts in the winter.
Jeans – Good jeans. I love Levi's and love that I found out I can get cheap Levi's at the Levi outlet store. You'll find me in jeans most days.
Socks – most likely colorful fun socks. I like to match my socks with my tops. I am a weird gal who has matchy matchy problems.
Three words that describe my style…
Comfortable – I totally believe you should wear things that are comfortable on you. Don't wear a thong if you think they are uncomfortable beasts or because you think should. If you don't like them, do not wear them. Don't wear tiny shorts because you think its the "in" thing to do. Be comfortable, be YOU!
Basic – I am pretty much a no-frills girl. I sometimes wear extra things to add into my outfit but for the most part. Its jeans and a t-shirt.
Colorful – I'd like to think that I wear quite a few colors, not just black, white, and gray. I am not sure if this is 100% true though.
My everyday wear: