There is a new makeup line coming out from One Direction and Markwins! Want to win the One Direction Makeup line even before it hits stores?
Well…
Lucky you, get a chance to win it before its officially out.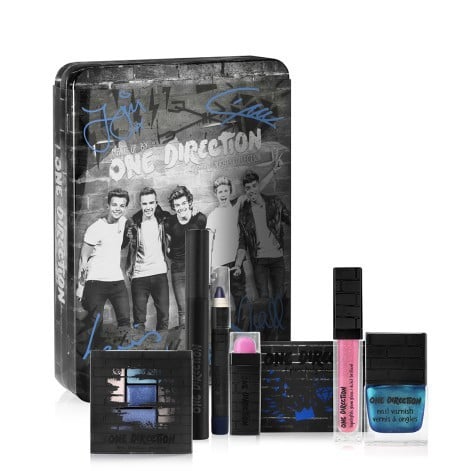 Makeup by ONE DIRECTION:
A range of makeup and cosmetic products celebrating youth, style, and the uninhibited lifestyle of a new generation. Celebrating life with bold shades, unique formula and infused with limited edition collectible packaging, Makeup from One Direction is fun, bold, often irreverent, with a touch of cheeky mischievousness. Offered at prices that every girl and woman can afford.
THE LOOKS COLLECTIONS.
"The Looks Collection" comprises three keepsake tins inspired by One Direction's globe-conquering albums, "Up All Night, "Take Me Home" and the latest chart topper, 'Midnight Memories." Each tin comes complete with everything you need to show off your personality. Are you a rock n' roll girl, a fun party girl or the girl next door? We have just the right collection for you and illustrations to help show you just how to get your perfect look. All your beauty essentials are housed in a LIMITED EDITION collectible keepsake tin with removable sleeve, complete with ONE DIRECTION doodle stencils to decorate your keepsake tin and make it uniquely your own!
Details on the 3 Looks Collection tins: http://bit.ly/1DMakeupLooksCollection
DISTRIBUTION:
The line will be available worldwide starting in the U.S.
US RELEASE DATES:
Macy's – August 11th
Stage Stores – August 25th
Dillards – August 25th
Beauty Brands – August 25th
Lord and Taylor – August 25th
*International release dates TBD. We'll keep you posted!
Follow now on Facebook to keep up on all updates concerning the line.
My sample is on its way to me, so you'll be able to see what look I can create once I get it.
Powered by Brandbacker
Win the One Direction Makeup Line Giveaway – open to the USA & Canada!