Simply straightening my hair each time, I look down and there is a mass amount of hair laying on the ground around me. I am losing hair, while looking at me no one would notice that I seem to be thinning out, but I notice and that in itself is annoying me. Putting my hair into a ponytail and all I have sticking out is this thin strands. I hate it.
Which is why I was pretty excited when Hayashi Worldwide came to me asking me if I wanted to do a 3 month challenge with their line called System Hinoki for thinning hair.
The pictures included are my hair after 3 washes, I completely forget to get my husband to take photos until then and when I remembered I was home alone and really couldn't get the full shots I wanted. I think it's a good starting point to see if we can see some differences.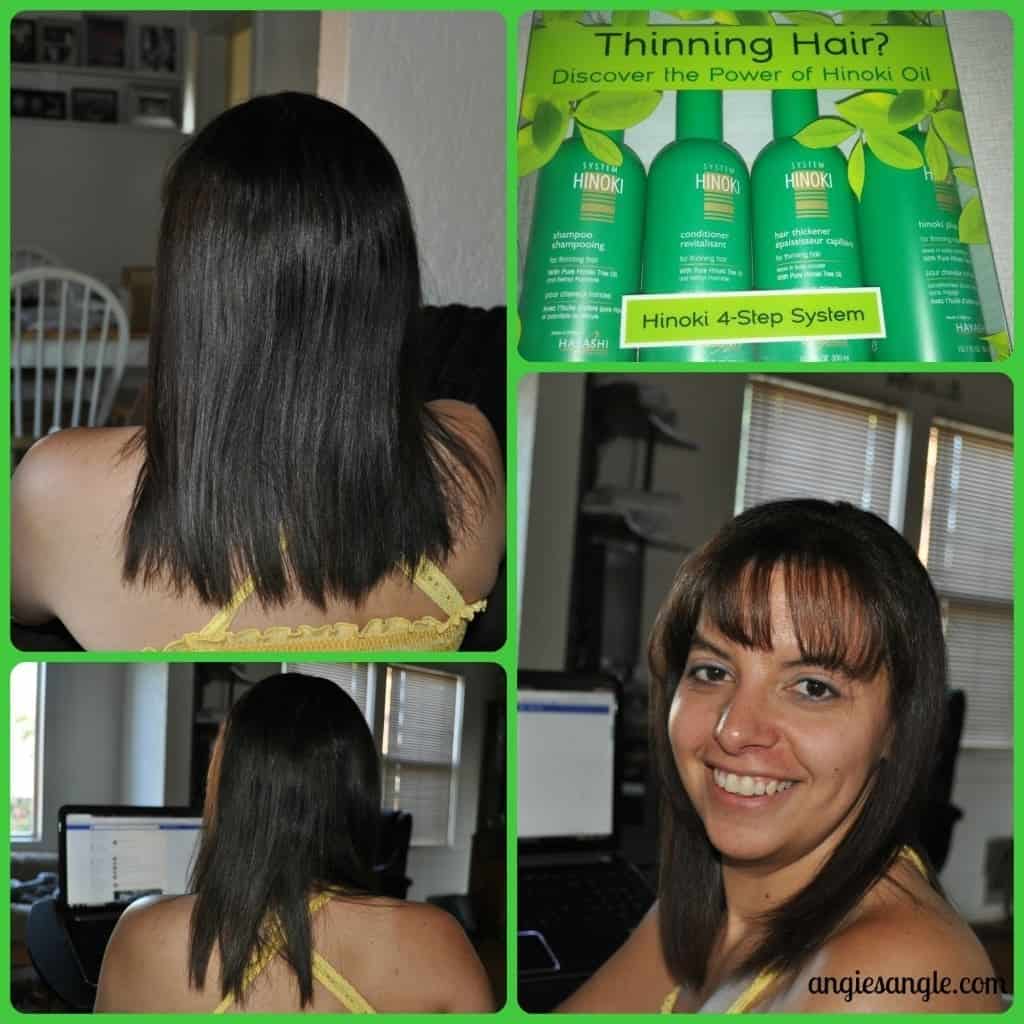 What is Hinoki Oil?
System Hinoki products contain pure Hinoki Oil from Japanese Hinoki Trees. This completely natural oil contains no drugs.
For over 2,000 years, Hinoki Oil has been used in Japan and other parts of Asia. Its purpose was to treat many types of rashes, cuts, abrasions and other skin ailments. For most of that time, Hinoki Oil was only affordable to Emperors and the very wealthy. It was their daily ritual to pour Hinoki Oil into their bath water before bathing. Hinoki Oil is still used throughout Asia for its natural astringent quality which helps kill bacteria, viruses, and fungus on the skin.
SCALP THERAPY
In 1987 Hayashi Worldwide started using pure Japanese Hinoki Oil in our System Hinoki line of hair products. These four products are formulated to drive maximum benefit to the scalp from pure Hinoki Oil. And since 1987, our System Hinoki products have been used by thousands of satisfied customers in many countries around the world, and the only side effects have been compliments!
There are four products to the System Hinoki: Hinoki Shampoo, Hinoki Conditioner, Hinoki Thicker, and Hinoki Plus. All four help work together to give you the hair you want.
My First Month Thoughts
I am only a month in so I can't tell you fully how the products work just yet. I will say I LOVE the way my hair feels after rinsing the conditioner out of my hair. I have never felt it so soft and touchable. My hair already feels in better condition over all and I can't wait to see what the next two months will do.
Am excited to share this journey with you. I will be updating next month too to let you all know how I am fairing and then of course the final results in month 3!
Have you heard of System Hinoki before? Would you be interested in trying it?