We are always taking water along with us wherever we go. Weather it be just on errands or on a long trip. I am a firm believer in keeping hydrated and having water on hand at all times. Which is why I was excited to try the Hydracentials Sporty 25oz Insulated Stainless Steel Water Bottle.
About Hydracentials Sporty 25oz from Amazon
Hydracentials Sporty 25 oz Double Wall Insulated Stainless Steel Water Bottle
Keep Your Favorite Beverage Cool, Crisp, Refreshing, and Tasting Great Even On the Go!
No MORE CONDENSATION! The double wall insulation keeps your bottle from forming condensation on the outside and will keep your beverage cold for hours!
– Holds 25oz of your beverage
– Keeps your drink cool for hours
– Stainless Steel keeps your beverage clean, crisp and toxin free! BPA Free, it won't leech toxins into your drink!
The Stainless Steel Material and Flip and Sip Design Make it effortless to enjoy your favorite beverage
– The Hydracentials Stainless Steel Water Bottle stands out among a crowd for its stylish design.
– The flip cap spout with straw drinking mechanism allow for easy handling and use. It's great for
– kids too!
– The secure twist on top allows you to easily attach to backpacks or bags.
– The flip-up spout cap allows for easy use and flips down for a secure leak proof closure
Product Details
– Made from durable and reusable 18/8 food grade stainless steel will keep the bottle in great condition.
– Wide mouth opening and detachable straw allows for easy cleaning
– Hand wash with soap and water.
– Do NOT put in the microwave.
-Fits easily is most cup holders Product Dimensions: 12″ H x 3.25″ W Capacity: 25oz (750ml)
This product is designed for cold beverages only.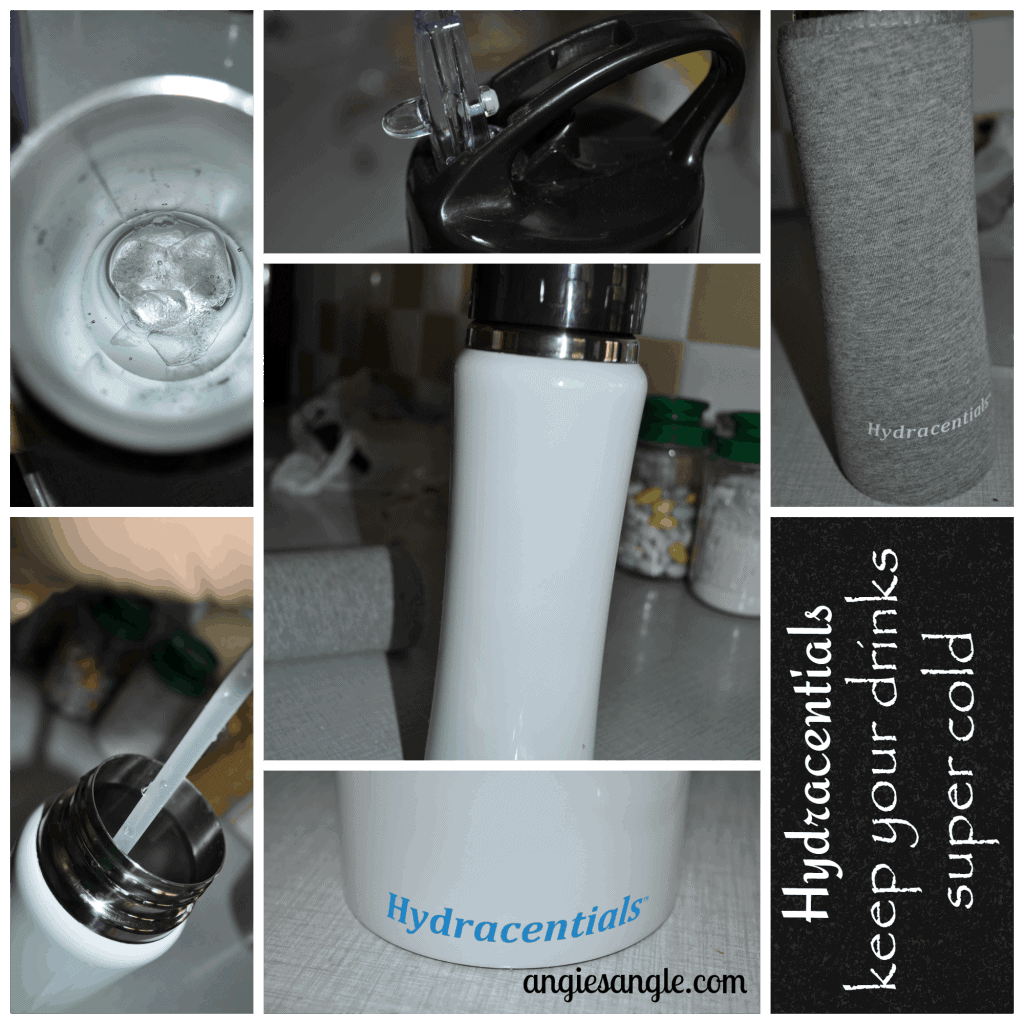 Our Thoughts on the Hydracentials Sporty 25oz
I decided the best way to test it out was to have Jason use it on his soccer nights. My husband plays indoor soccer right now on Wednesday and Friday nights. Having water on the sidelines is, of course, an important part of playing sports.
At first Jason didn't care for it being a straw and him having to pull in from the straw to get a drink. Since he is used to an open mouth type of thing where he can gulp down water quickly.
But he quickly changed his mind when he realized just cold the Hydracentials kept his water. In fact, we were in shock on our "tests".
One night he took it up with him to have water up in our room. Which mind you is in the attic and gets very warm during the day. He ended up leaving it up there all day and I brought it back down since we had to sleep in the second living room to allow our bed to rise. Jason opened up the container to fill it and was shocked that even though there wasn't any ice left, it was still ice cold. Like it had just been filled.
Second time, it was sitting out in the living room the whole day, that evening he went to use it again and lo and behold this time there was still ice in there too!!
Amazing!! We sing the high praises of this little thing now. If you like your beverages super cold and keeping them that way, this is the one for you.
Go buy it now on Amazon – Hydracentials Sporty 25oz for $27.97
I received one or more of the products mentioned above for free using Tomoson.com. Regardless, I only recommend products or services I use personally and believe will be good for my readers.