Finish This wouldn't be such a success without the following beautiful ladies: Lisa at Coastlined, Nicole at Three 31, Jen at The Arizona Russums, and Becky at The Java Mama! Check them out and then play along!
I've so enjoyed my weeks Finish This linking up, you should really start to play along. You'll love it!! As you know the year is already winding down and there is a BIG Finish This coming up. It goes live December 31st, if you'd like the prompts just email me and I can get them to you.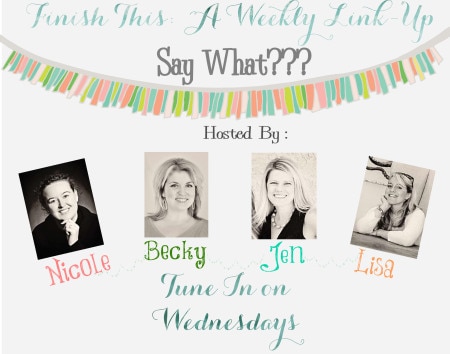 Finish This Halloween Edition
1. As a kid, my favorite Halloween costume was…
As a kid, I hated dressing up. It wasn't something I looked forward to at all. I did it rarely. I remember being a clown, a Berenstain bear, and a cheerleader. Those are the only costumes I can recall and sadly I don't have any photos on hand to share with you all.
Don't even talk to me about going to door-to-door to say Trick-or-Treat – are you nuts? You want me to walk up to someone I don't know and talk to them. Ugh, no just no. I'll just stay home and eat candy myself, thank you very much. Now I did go a few times, but for me it wasn't really enjoyable. Oh yes, the candy was wonderful but that whole concept of asking, no.
2. As an adult, I celebrate Halloween by…
Usually handing out candy and watching scary movies. I love scary movies. I do like going out all dressed up now though. Its fun for me now to dress up in something I wouldn't normally wear and put my makeup on a bit darker and noticeable.
I think I have dressed up more now as an adult than I ever did as a kid. I love having a selection of costumes to choose from if we are ever invited to any kind of costume party. Its super fun for me. If you didn't catch this year's costume yet, you can find it – Life Update and Halloween Costumes.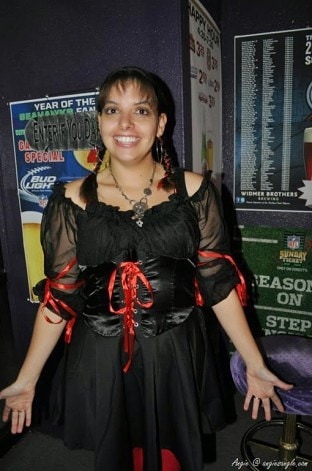 3. My favorite candy is…
Recess Peanut Butter Cups! I also like anything sour, and anything with caramel. Yum!