I'm a member of Swagbucks Influencer program and if you sign up for swagbucks through my links, you'll be one of my referrals which I'll earn off you earning.
Since I am talking about all things Halloween today, I decided it would also be a good time to share with you an amazing deal that Swagbucks has going. Read below to find out all about it and if you are a new sign up for swagbucks keep reading for a code that could you bonus points when you sign up.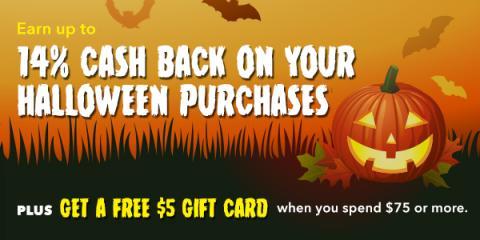 Talk about scary good deals! With only a few weeks until Halloween, we're always looking for ways to save more money while still enjoying all the festivities. Whether it's looking for a fun costume, picking up some spooky decorations or getting ready to bob for apples, Swagbucks is here to make your Halloween prep full of hair-raising savings & value!
Starting Oct 6th – Oct 26th, you get up to 14% cash back on participating Halloween retailers — that's up to 14 SB per dollar spent! But that's not all: get an additional $5 Paypal gift card when you spend $75 or more (members will receive gift card by Dec 1st, limit one card per member). How many ways can you think of where Halloween shopping helps you save money towards your holiday shopping??
You can find all the participating stores plus coupons here on Swagbucks. From Target to Costumes4Less and Wholesale Party Supplies, you can find everything you need for Halloween PLUS get a ton of Swag Bucks. And you know what Swag Bucks are good for? There are more than hundreds of gift cards to redeem your SB for in the Rewards Store — those gift cards are how I've paid for Christmas! Sign up here and take advantage of the deals & savings today!
If you newly sign up for swagbucks through one of my links above, you can earn an extra 70 swagbucks just by entering: angiesangle . You can enter the code in the area that says swag code in the upper right corner bar of swagbucks.